Moto X Active Display feature available as Active Notifications app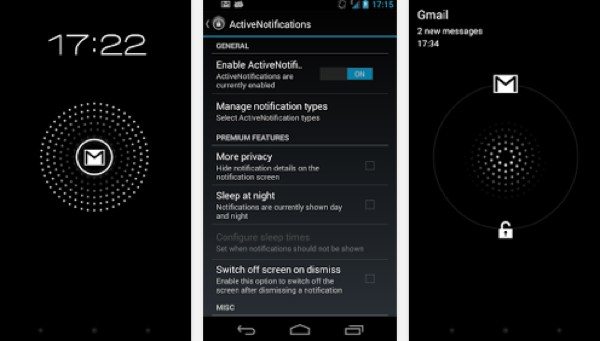 Many Android enthusiasts are keen to get their hands on the new Motorola Moto X smartphone, which looks set to fly off the shelves. One of the features that Motorola has included with this phone is Active Display, a handy new addition. If you like the sound of this feature there's good news, as this type of feature is not exclusive to the Moto X and is available for other Android handsets in the form of the Active Notifications app.
Active Display on the Moto X is a rather neat feature, as even when the phone is locked the user can still see notifications and app alerts. It's good to hear that a similar benefit is available through an app titled ActiveNotifications, which is intended for those who like the Active Display feature from the Google Play Store but want it for their own Android handset.
This seems like an app that many Android device users would appreciate, and there's no need to worry about this feature draining your battery, as sensors will only show the notifications at a point when you are ready to read them. For instance, the alerts won't be shown when the phone is in your pocket or face down.
Also, battery use is kept to a minimum as the notifications are shown using only the required pixels in a clean and neat format. When notifications appear on the lockscreen a simple swipe upwards will enable users to respond, or the notification can be deleted from the display by swiping left or right. Users can also choose what sorts of notifications they want to be shown on the lock screen.
The app is available free, with extra features available as an in-app purchase at $0.99. Advantages of this include being able to stop notifications during the night, as well as being able to adjust the display brightness. You can find the ActiveNotifications app at Google Play here.
Would you like the Active Display feature of the Moto X via the ActiveNotifications app from Google Play? If you download this app for your Android device we'd really like to know what you think of it, so please do send us your comments.