Asus FonePad HD 7 pre-order and price details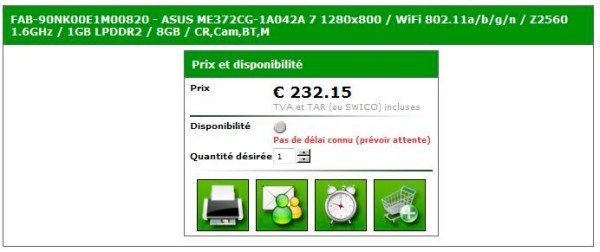 Regular Phones Review readers may remember that a few days ago we gave some initial specs for the upcoming Asus FonePad HD 7. The precise release date of this device is still not known but we do now have some Asus FonePad HD 7 pre-order and price details.
The next-generation FonePad has received a specs bump from the original, and unconfirmed specs so far for the FonePad HD 7 include a 1.6GHz Intel Atom Z2560 dual-core processor, a 7-inch display with 1280 x 800 resolution, 1GB of RAM, and 8 or 16GB of internal storage. Other specs include a 5-megapixel rear camera and 1.2-megapixel front-facer, and it will run Android 4.2 Jelly Bean.
It seems to have been a long time coming for the FonePad HD 7 since it was introduced earlier this year at MWC, but now a report states that some online stores in Europe are accepting pre-orders for the device. The FonePad HD 7 price listed is €232, that's around $310 or £199. This is for the 8GB version but there's no price listed yet for the 16GB model, although it should also be available to order soon.
Please bear in mind that the above price is from some online stores, and Asus itself hasn't given any details yet about pricing or availability, so this could change. As we said, there's no release date for the device yet, so it could be some time before pre-orders begin shipping. As soon as we hear more on this we'll let readers know.
Is the Asus FonePad HD 7 a device that you are interested in? What are your thoughts on the above pricing if it turns out to be generally accurate? Let us have your comments on this.
Source: Notebook Italia (Google Translated)