Motorola Droid 5 QWERTY slider possibility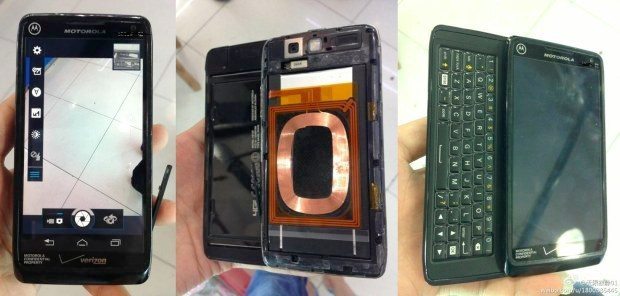 Motorola has just released three new Droid handsets on Verizon, but it looks as though they're not done just yet. Some images have leaked of a smartphone dubbed the Droid 5, and it looks as though there's a Motorola Droid 5 QWERTY slider possibility.
The Droid Ultra, Droid Maxx and Droid Mini have all just been launched on Big Red, but a Droid 5 could well be on the way. The leaked images that we're showing here turned up on Chinese website Weibo, and if they turn out to be genuine this news could please many Motorola Droid admirers out there.
You can see the QWERTY keyboard in these images, which looks like the laser cut 5-row keyboard that featured on the Droid 4. The phone is said to have wireless charging and NFC as well as a design that is not only water and dust resistant but also shockproof. The Verizon 4G LTE branding can also be seen on the reverse and the display looks to be anything between 4.3 and 4.5-inches.
The Droid 5 is likely to have a lot of appeal to those who want an Android handset with a physical QWERTY keyboard. We don't have any further details yet on specs, features or release availability, but you can be sure we'll pass on further news on the Droid 5 as we hear it.
Do you hope these leaked images that purport to be of the Motorola Droid 5 are legitimate? Would you be interested in the Droid 5 for yourself? Your comments are always welcome, so do send them in.
Source: Weibo (1) (2) (log-in required) Via: Engadget