Nexus 5 basic design with realistic specs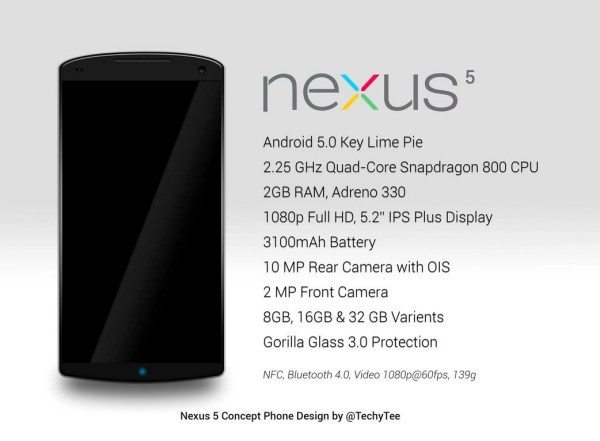 The Google Nexus 5 smartphone is still somewhat elusive, despite being one of the most hotly anticipated devices of the year. It does seem likely that the official launch of the phone won't be too much further away now though, and today we want to offer you one idea of what it could possibly look like. Take a look at this Nexus 5 with a basic design and realistic specs.
Yesterday we published an article summing up what we know and don't know about the Nexus 5 so far, so check that out if you would like to see more. We should point out that the Nexus 5 we're showing you today is a concept design of the phone. Nevertheless it's sometimes interesting to take a look at potential designs and specs, and this concept is perhaps more realistic than a recent concept we showed readers.
This new Nexus 5 concept comes with some expected features and specs that include a 2.25GHz Qualcomm Snapdragon 800 quad-core processor, Adreno 330 graphics, a 5.2-inch Full HD IPS Plus display, 2GB of RAM, and 16, 32 or 64GB of internal storage.
It also has a 10-megapixel rear camera with optical image stabilization and 1080p video capture at 60fps, a 2-megapixel front-facing camera, and a 3100 mAh battery, while it runs the Android 5.0 Key Lime Pie operating system. Other inclusions are Gorilla Glass 3, NFC, and Bluetooth 4.0.
Although we feel the genuine Nexus 5 is more likely to feature a Snapdragon 600 processor rather than the 800 variety, the majority of these imagined specs are pretty sensible, and not too over-the-top. Certainly if the Nexus 5 does include a Snapdragon 800 rather than the 600, this would go down very well indeed with potential customers.
The design of this concept Nexus 5 also realistically looks like something we might expect of the real deal, with not too much in the way of bells and whistles but certainly decent enough. It's described as weighing 139g and as you can see, has very slim bezels and what looks to be an LED notification light.
This latest Nexus 5 design comes from @TechyTee at DeviantArt, and we'd be very interested to find out what you think of this design and imagined specs. Would you like to see the authentic Nexus 5 unveiled looking like this? Do the specs of this concept live up to your expectations for the Nexus 5, or maybe far surpass them? Let us know with your comments.