Motorola Droid Ultra vs HTC One Verizon clash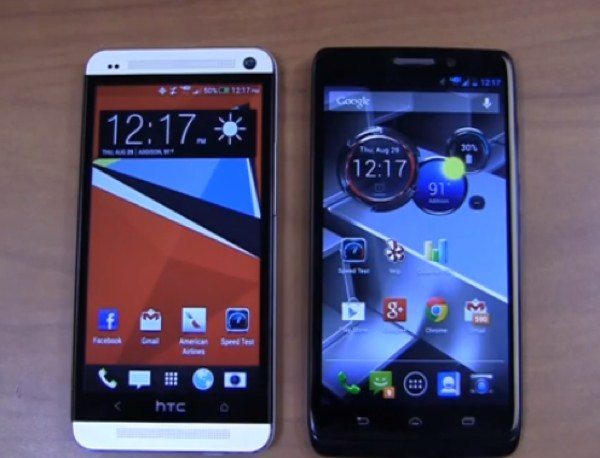 Potential customers for a new Android smartphone have a wealth of choice right now, and if you're a Verizon customer then the HTC One and Motorola Droid Ultra are both available on the carrier now. If you're having difficulty deciding between the two then today we have some videos showing a Motorola Droid Ultra vs. HTC One Verizon clash that may offer you some useful insight.
The HTC One has released on various carriers in regions worldwide and recently reached Big Red at last. Meanwhile the Motorola Droid Ultra also released on Verizon in the last two weeks.
The HTC One is a flagship device that has been well acclaimed and we'll point out straight away that specs-wise it definitely has the better of the Droid Ultra. Nevertheless the Droid Ultra also has plenty to offer.
We have embedded a two-part YouTube video comparison of these two phones below this story that will give you a good look at both devices and information that you might require to choose between them. Please note that in the image below the HTC One is shown on the left and the Droid Ultra on the right.
The first video begins with a look at pricing, and given the specs it may surprise you that they are the same price on contract. The video goes on to give a specs rundown of both devices before a tour of the hardware and features of the phones.
The second part of the video starts with details of the software and then shows a Quadrant test where unsurprisingly the HTC One with its quad-core processor wins. However, it's noted that both phones are extremely fast.
A SpeedTest is also run and roles are reversed, with the Droid Ultra actually topping the HTC One. Further to this the cameras and camera features of both phones are compared in some detail.
We won't give away the conclusion of this comparison, but although one is declared a clear winner the reviewer points out that he likes both devices. Some of your choice may also depend on which design you like best, and that is very much a personal preference.
We'd like to hear your thoughts on these two phones and welcome your comments. Are you about to purchase either of these two smartphones? Which will you choose, the HTC One or Motorola Droid Ultra? Maybe you're going to wait until the Samsung Galaxy Note 3 is announced on Wednesday before making your choice?