Samsung Galaxy Note 3 vs HTC One, initial comparison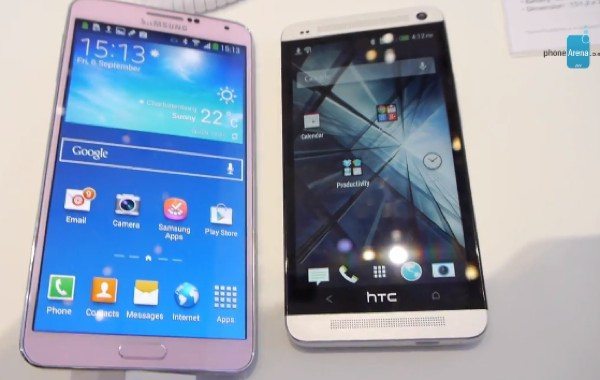 The much-awaited Samsung Galaxy Note 3 smartphone was finally made official last month and will release worldwide from September 25. The flagship HTC One has been available for several months and is also a highly notable device. Today we have a video to show that looks at the Samsung Galaxy Note 3 vs. HTC One in an initial comparison.
This is not meant to be a full comparison, as so far all there has been time for is a first look at the Galaxy Note 3. The HTC One is available in regions worldwide, as the Galaxy Note 3 will be. Many of you will be able to purchase either of these devices so it's worth a quick look at what they have to offer.
The 3-minute YouTube video that we have embedded below this story, takes an initial look a both handsets. It's a helpful video because you can see the phones alongside each other to get an idea of how the sizes and designs compare.
One of the most notable differences is the larger phablet size of the Galaxy Note 3 as it has a 1-inch larger display than the HTC One. The Galaxy Note 3 has the usual cheaper plastic of current Samsung Galaxy devices, albeit with a new faux-leather backing, while the more premium build of the HTC One is apparent.
The video also briefly compares the software of the two handsets before pointing out that the Galaxy Note 3 also benefits from the use of the S Pen stylus. It's a brief comparison that will give viewers an initial assessment of the two phones when pitted against each other.
We'll just give you a quick rundown of the major specs of each handset. The Galaxy Note 3 packs either a 1.9GHz Exynos Octa-core processor or a 2.3GHz Qualcomm Snapdragon 800 quad-core processor (regions vary), a 5.7-inch Super AMOLED display with 1920 x 1080 resolution, 3GB of RAM and 32 or 64GB of internal storage (expandable via microSD). It also has a 13-megapixel rear camera, 2-megapixel front-facing camera, and a 3200 mAh battery. The Note 3 runs Android 4.3 Jelly Bean skinned with Samsung's TouchWiz UI.
On the other hand the HTC One is powered by a 1.7GHz Qualcomm Snapdragon 600 quad-core processor, has a 4.7-inch Super LCD3 display with resolution of 1920 x 1080, 2GB of RAM, and 32 or 64GB of internal storage (non-expandable). It also totes a 4-megapixel UltraPixel rear camera, 2.1-megapixel front-facing camera, and a 2300 mAh battery. The One launched on Android 4.1.2 Jelly Bean, upgradable to 4.2.2, overlaid with HTC Sense v5.
We've already given pricing of the new Galaxy Note 3 for the UK and US so check those posts out at the link. The US price article also includes some release dates for various US carriers. Which of these phones most appeals to you, the new Samsung Galaxy Note 3 or HTC One? Let us know with your comments.