iOS 7 Gold Master deletes iCloud feature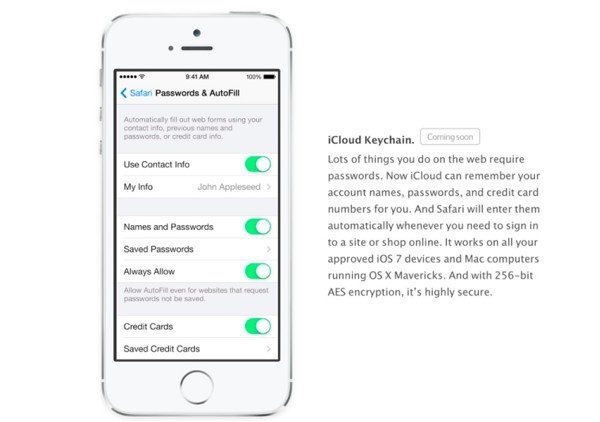 Apple's iOS 7 is on its way to a general release and the Gold Master was recently issued for developers. This is the final build before the new operating system launches to the public. One thing that's now been noted is that the iOS 7 Gold Master has deleted an iCloud feature.
A public release of iOS 7 is coming on September 18, and this will be a big change from previous iOS versions. It's always interesting to see what turns up in the Gold Master and iCloud Keychain support seems to have been removed.
The new iCloud Keychain feature is a cross-device password manager that enables users to store and share passwords for their iOS 7 devices as well as OS X Mavericks Mac computers. As well as this benefit, Wi-Fi networks, website logins and credit card information can also be stored.
It's highly secure as it uses 256-bit AES encryption. Previously iCloud Keychain was listed under iCloud preferences, but the fact that it's now missing indicates that it won't appear with iOS 7 when it first releases to a much wider audience.
Oddly though, on Apple's official iOS 7 feature page Cloud Keychain is shown as "coming soon." It's rather puzzling as to why iOS 7 doesn't seem likely to include this feature for now, but it's probable that Apple will include it alongside OS X Mavericks due later in fall.
We also recently showed a review video of GM iOS 7 that readers may be interested in taking a look at. It would be interesting to hear what you make of this iCloud omission from the iOS 7 Gold Master? Send your comments to let us know.
Source: MacRumors