Dual SIM Galaxy Note 3 seen with less RAM and storage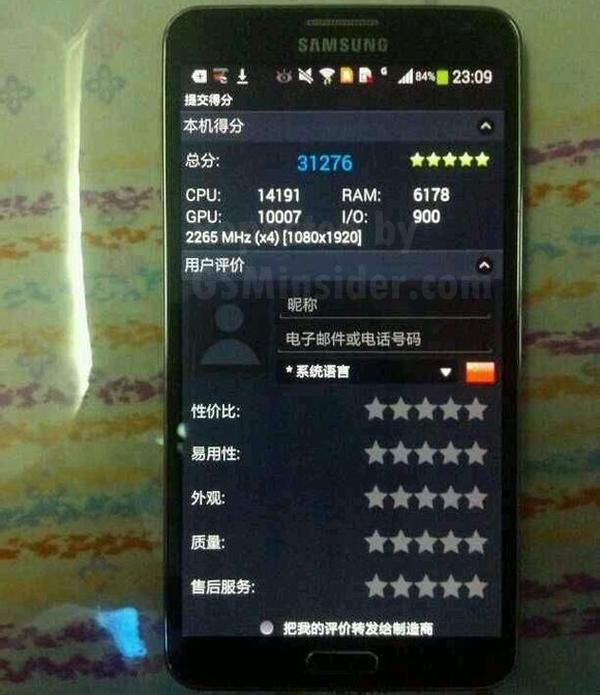 We have been getting used to Samsung launching various different versions of their flagship smartphones recently, and this trend is looking like it will continue as a dual SIM Galaxy Note 3 has been seen but with less RAM and internal storage.
We are only ten days away now from seeing the Samsung Galaxy Note 3 released to select markets around the world, and in the meantime the image that you can see on this page courtesy of GSM Insider is allegedly of a dual SIM Galaxy Note 3.
It is reported that this variant of the phablet smartphone will use the quad core Qualcomm Snapdragon 800 processor just like the standard LTE version. Some benchmark scores have also been spotted that show a score of 31,276 using the AnTuTu application, which is pretty impressive.
Strangely though this version of the Galaxy Note 3 has 2.5GB of RAM instead of the 3GB the standard version has, and only has 16GB of on board storage where the smallest available on the other versions of the Note 3 is 32GB.
This version of the Samsung Galaxy Note 3 is only expected to be released into the Asian markets where dual SIM handsets are extremely popular, but there are more users in the western world that like the idea of dual SIM capabilities although losing that amount of internal storage may not be so popular.
We might get to hear more about the dual SIM Galaxy Note 3 officially at the launch event taking place over in India in a couple of days time on the 17th of September, but there doesn't seem to be any other differences with the handset.