HTC One Max pictured next to Galaxy Note rivals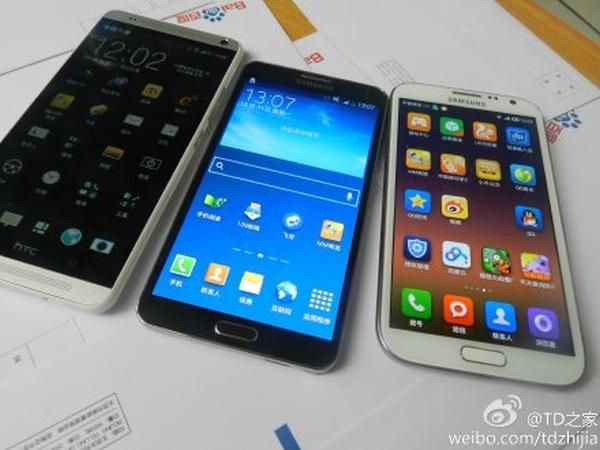 Considering the amount of leaks we have been seeing over the last few weeks we can't be too much longer away from seeing the rumoured phablet smartphone from HTC officially, and now the HTC One Max is pictured next to its Samsung Galaxy Note rivals.
The image that you can see on this page has appeared via a Weibo account that has been the centre of a number of HTC One Max leaks recently, and the latest one sees it alongside the Samsung Galaxy Note 3 and Galaxy Note 2.
It is all but confirmed that the device will feature a 5.9-inch Full HD display in a design that is borrowed from the popular HTC One. As you can see the upcoming device is considerably larger than the Samsung offerings, and some other images from the same source reveal the handset managed to score a respectable 26,417 in some benchmark results.
The yet to be announced handset is expected to feature the same Qualcomm quad core Snapdragon 600 processor as the HTC One, although many would have liked to see the Snapdragon 800 instead, but until the handset is made official by HTC we won't know for sure.
Some have suggested that the device is just a little too big for them but there were some consumers who were hoping that the Galaxy Note 3 would be nearer to 6-inches instead of the 5.7-inch that Samsung went for.
Other rumoured specifications for the HTC One Max include 2GB of RAM along with 16GB of expandable storage via a microSD card slot, and supplying the juice will be a huge 3,300 mAh battery.
Source: SIMOnly Radar.