iOS 7 Airdrop and Multitasking explained on video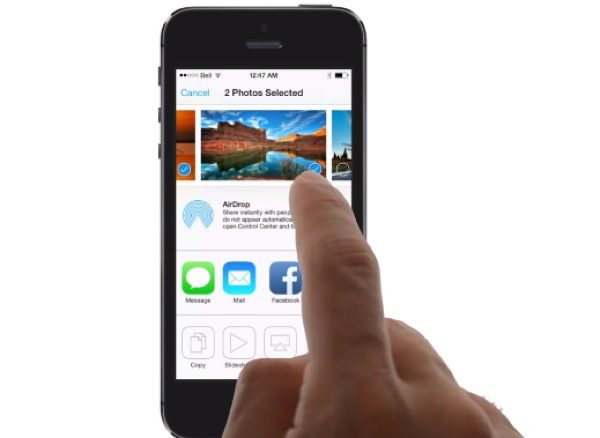 Unless you've been living under a rock you will know that Apple's iOS 7 released to the public on Wednesday. Many of us are now getting to grips with the new operating system for our various devices, and two of the most notable additions are Airdrop and improved Multitasking. We have two videos that will show more about the iOS 7 Airdrop and Multitasking features.
There have been some difficulties updating to iOS 7 for some device owners, and there have also been concerns over security issues. There also seems to be evidence that iOS 7 has detrimentally affected battery life, particularly for the iPhone 5.
However, if you're one of those who have successfully updated your device, or have just purchased the iPhone 5S or 5C, you're probably not quite used to the new iOS. The videos we have here will give a good idea of Airdrop and Multitasking. The first video that we have embedded below this story regards the Airdrop feature.
The two-minute YouTube video runs through the new feature that allows users to very easily send photos, videos and other files to another nearby device using Wi-Fi. You can send files to one specific person or multiple people.
Sometimes it can be much easier to see a demonstration of something rather than read a long explanation of how to do it, and this video very clearly shows exactly how to share files with AirDrop.
It's important to note though, that the Airdrop feature is not available for all existing iOS 7 devices. However, it is an option for iPhone 5S, iPhone 5C, iPhone 5, iPad 4, iPad mini and iPod touch (5th generation).
The second video that you can see below is a one-minute look at iOS 7 multitasking. This has changed from iOS 6 where if you double-clicked the Home button you'd see a tray of icons along the bottom of the display. Now if you double-click the Home button you'll see app preview screens in a new full-screen interface.
The video shows how the new multitasking switcher works and a really clever part of this is that iOS 7 will learn when you like to use particular apps and will update them before you launch them.
We think these videos neatly show how the iOS 7 Airdrop and Multitasking features work, and we hope that readers find them useful. Send us your thoughts on Airdrop and Multitasking with iOS 7 by dropping us a comment. Are you generally pleased with the new-look operating system?