iPhone 5S UK Apple sales, 7 to 10 day delay already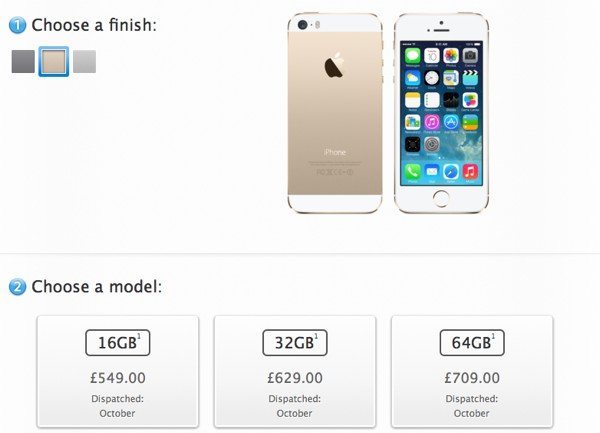 The Apple iPhone 5S and 5C release today in regions worldwide, but just as we feared it seems the iPhone 5S is in extremely short supply. In the UK Apple online sales kicked off as expected but immediately showed a delivery time of 7 to 10 days for the iPhone 5S rather than immediate shipping.
If you are one of the many customers who intend to purchase the iPhone 5S, then you'll probably already know that pre-orders for the premium iPhone were unavailable. This may have been an indicator that stocks would be short, especially as pre-orders for the less expensive iPhone 5C were available.
Before launch day US carriers were already concerned about the small amounts of inventory they were receiving of the iPhone 5S, and recently we told how our local O2 store in the UK had already said that the iPhone 5S would not be available there on release day.
Online sales became available first in the Far East and Australia. In Australia and China online orders through Apple were very quickly pushed back to 7 to 10 days for shipping, for every color and capacity option. The gold iPhone 5S appears to be in particularly short supply with the 64GB option being immediately unavailable in those countries.
Consumers wanting to buy the iPhone 5S in Hong Kong and Singapore are faring even less well, with online orders already showing as shipping in October for all models. Once Apple Stores started selling the iPhone 5S online in the UK, Germany and France it soon became evident that those in Europe would also have a wait for the iPhone 5S too.
In the UK the Apple Store showed dispatch times of 7 to 10 days for all colors and storage options immediately after orders went live. It was exactly the same situation for online orders in Germany and France. In the US the online Apple Store is currently down and about to go live for orders but the situation looks unlikely to be any different there.
As online orders for the iPhone 5S already have a delay of 7 to 10 days in the UK, it doesn't bode well for those trying to purchase one in retail stores today. There could be very limited stocks available in many shops, and many of the potential customers in long lines already could be unlucky. In fact we've just checked the UK online Apple Store again and the gold iPhone 5S now has a delivery time showing of October, as shown in the image here.
If you're in the UK and trying to buy the iPhone 5S today we'd be interested to hear how you get on. Have you ordered online through Apple, and if so what is your expected delivery time? Maybe you are heading to a store to try to get the iPhone 5S, in which case we'd love to know if you manage to pick one up today?
Source: MacRumors