5 essential iPhone 5S accessories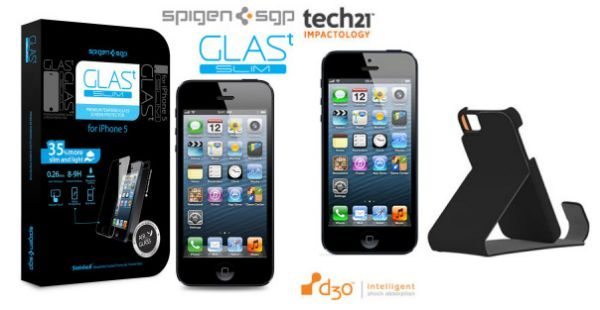 Today we're going to take a look at five of the best accessories to have been announced so far for the highly anticipated iPhone 5S. Let's get right into the picks!
5. iKit NuCharge 1900 mAh Battery Pack & Case
We begin today with an absolute lifesaver – the iKit NuCharge. This is a combined iPhone 5S case and battery pack, a sensible arrangement that uses the bulk of the battery as added protection for your iPhone. The case does add a fair bit to the size and weight of your iPhone 5S, but you won't mind as you'll have more than double the normal amount of battery life available. That means over 24 hours of 3G talk time or Wi-Fi internet browsing, and it should be enough to last about two full days between recharges with moderate use. The case even includes a kickstand so you can easily watch movies or play games on the go.
4. iBolt iProDock 5 Active Vehicle Dock
The iBolt is a cleverly made dock for the iPhone 5S that gives you pretty much everything you need for using your iPhone in a car. You have a car holder to keep your iPhone 5S in a convenient position for GPS navigation and other activities, as well as a powerful car charger to ensure that you'll always arrive at your destination with more juice than you started with. While you could also potentially add an FM transmitter or a hands-free kit, these two functions encapsulate the basics and you'll be glad to have them.
3. Spigen SGP Glas.t Slim Glass Screen Protector
This iPhone 5S screen protector is rather different than almost all others on the market, thanks to its use of a different material. Instead of plastic, this screen protector is made of tempered, shatter-resistant glass that provides considerably more protection against scratches, abrasions and impacts than a standard screen protector. While the price is correspondingly higher, the easy application process and the aforementioned protection really make this a worthwhile upgrade for an expensive phone like the iPhone 5S.

2. iFruit Conversion Kit
This is perhaps the least essential accessory on the list, but it's so funny I thought I had to include it. Basically, it's a vinyl skin that'll make your iPhone resemble the iFruit parody phone from Grand Theft Auto. The iFruit is protagonist Michael's phone of choice in GTA 5, and it really is amusing to see someone pull one out in the real world. Of course, since it's a vinyl skin it adds basically no bulk to the iPhone 5S, ensuring all accessories continue to work correctly.
1. Tech21 D3O Impact Leather Flip Case
This is easily the best iPhone 5S accessory I've seen so far – a next generation case from Tech21 that combines stellar impact protection with the screen protection and leather stylings of a traditional folio case. This case also includes a built-in stand, perfect for consuming media of all kinds as well as watching the notifications fly in. The Impact Leather Flip is a great first choice for an iPhone 5S case, and you won't regret picking one up.
Conclusion
I hope you've found these selections useful. Thanks as always for checking out the list and be sure to let me know if you have any questions or comments in the relevant field below! Please visit Mobile Fun and use their search bar to find the above iPhone 5S accessories, enjoy.