Samsung Galaxy Trend Duos price and release for India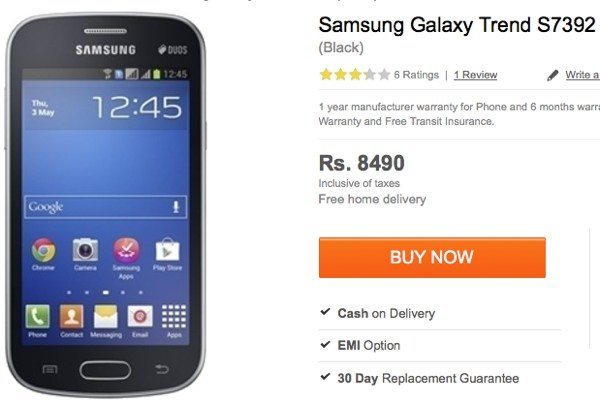 Although the Samsung Galaxy Trend Duos for India hasn't yet been officially announced or even listed on Samsung's website, some retailers have just begun selling the device. We have the price ahead for the Galaxy Trend Duos as well as details of retailers who already have the phone for sale.
Although the Galaxy Note 3 is just about to release in India, the flagship phablet device will be out of many people's reach as it's a premium handset at a premium price. Last week Samsung told how some cheaper phones would soon be released in India that would be priced at under Rs. 15,000, and the Galaxy Trend DUOS is certainly an affordable device.
The Samsung Galaxy Trend S7392 has a basic dual-core processor, a 4-inch WVGA display with resolution of 800 x 480, 512MB of RAM, and 4GB of internal storage that's expandable via microSD to 32GB.
It also has a 3-megapixel rear camera, a 1500 mAh battery, dual SIM slots, 3G, Bluetooth, and WiFi, and runs the Android 4.1 Jelly Bean operating system. Dimensions are 63.1mm x 121.5 x 10.85mm and it weighs 126g.
Snapdeal is now selling the Galaxy Trend Duos for Rs. 8,490 while Flipkart also has the phone for sale at the same price. This price means it's the least expensive Samsung phone in India.
Are you thinking of buying the Samsung Galaxy Trend Duos phone? What are your thoughts on the pricing of this device? We always appreciate comments from readers so tell us your thoughts about this.