Kindle Fire HDX tablets, release and specs detailed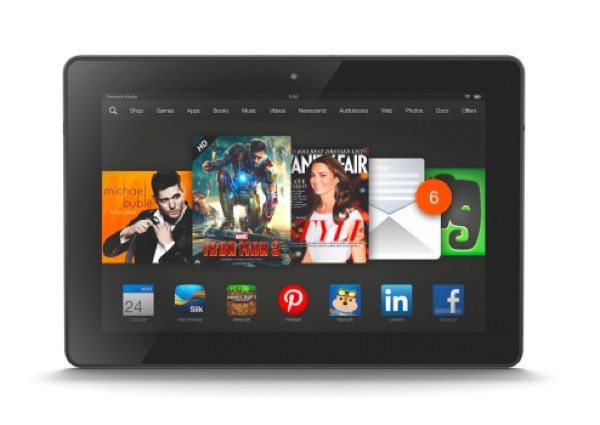 The third generation Kindle Fire tablet was officially announced today. The Kindle Fire HDX is available in 7-inch or 8.9-inch form and has a wide array of features. We have details ahead of the Kindle Fire HDX tablets release and specs.
The Kindle Fire HDX is powered by a 2.2GHz Qualcomm Snapdragon 800 quad-core processor, offering 3 times the processing power of its Kindle predecessor. It also has Adreno 330 graphics. The 7-inch HDX display has 323 ppi while the 8.9-inch version has ppi of 339. The displays offer 100% sRGB color accuracy with reduced glare.
Other specs include an 8-megapixel wide-aperture rear camera with 1080p video on the 8.9-inch Fire HDX with a front-facing HD camera and there are also dual stereo speakers. The 7-inch version just has the front-facing HD camera.
The Kindle fire HDX runs Fire OS 3.0 Mojito and offers a battery life of up to 11 hours for mixed use or 17 hours of reading. The tablets come in 4G LTE options, and for enterprise use there's Kerberos Intranet, secure Wi-Fi connections, VPN integration, wireless printing, and hardware and software encryption.
The 8.9-inch Fire HDX weighs only 13.2 ounces, which is around 34% lighter than the previous Kindle Fire. There are many exclusive features including X-Ray for Music, Second Screen, Mayday button, Goodreads, Cloud Collections, and Prime Instant Video downloads.
The 7-inch Kindle Fire HDX has a release date of October 18 and is available to from Amazon today with a starting price of $229. It comes in 16, 32 or 64GB storage options. The 4G version can also be pre-ordered today with a starting price of $329 and this will become available from November 14.
The 8.9-inch Kindle Fire HDX is priced from $379 and also comes in 16, 32 or 64GB storage options. Pre-orders are now available and there's a shipping date of November 7. Meanwhile the 4G variety is priced from $479 and can also be pre-ordered today with shipping beginning on December 10. You can see more or pre-order at Amazon here.
We'd like to hear your thoughts on the new Kindle Fire HDX? Will you be adding either the 7-inch or 8.9-inch version to your holiday wish list? Let us know with your comments.