iPad 5 vs iPad 4 design differences pictured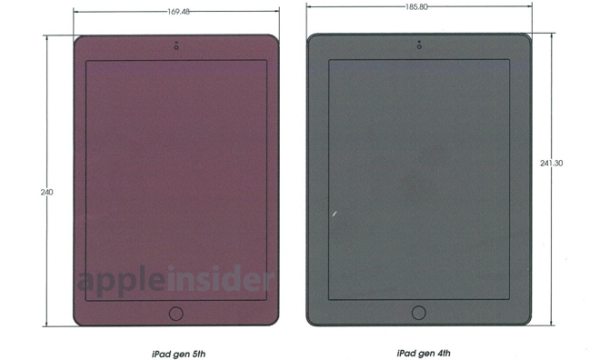 There is great anticipation when it comes to the Apple iPad 5 design and size, up until now we have no idea what is expected to release. Yes, we have all heard that the fifth-generation tablet will take some design cues from the iPad mini but these are just rumors.
More information is coming to light now and thanks to Apple Insider they show the iPad 5 size differences to its predecessor aka the iPad 4. It would be great if Apple launched the new iPad 5 with design cues from the iPad mini because this would mean the tablet being smaller in size, thinner and of course narrower side bezels.
The source above were sent design drawings from a case maker of the iPad 4 and iPad 5 side-by-side comparing the size differences, this is very interesting indeed because it shows the new iPad will come in at 7.5mm thick, which is only 0.3 mm thicker than the iPad mini and 2 mm thinner than the iPad 4.

The iPad 5 height will be 1mm smaller than the iPad 4, and the side bezels will be much smaller reducing the width by over 16mm. One comment we spotted made us giggle somewhat; it said "An iPad 5 with A7 and the new Touch ID would surely overwork Santa this holiday season!"
Apple Insider do mention that the iPad 5 will keep the FaceTime camera, lock button, location of the headphone jack and home button etc the same as the current model. Do you think Apple will incorporate the fingerprint button (Touch ID) on the iPad 5?
So, a brand new iPad 5 looking more like the iPad mini could be a possibility after all.