Further Verizon Moto X Developer Edition stock arrives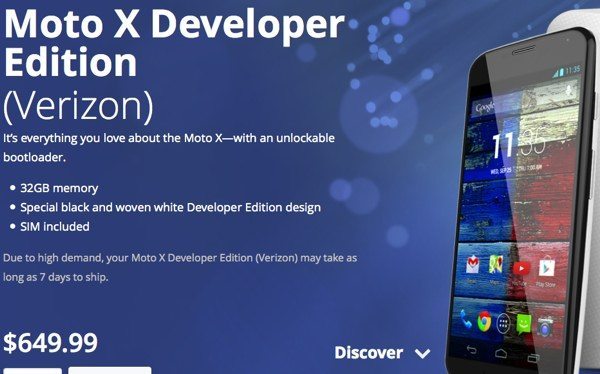 The Motorola Moto X has been extremely popular since its release, and a Developer Edition was also launched. The Verizon variant sold out very quickly but there's good news today for those waiting, as further stock has now arrived.
The first time this appeared for sale via Motorola online, the Moto X Developer Edition on Verizon sold out within a matter of hours. Now Motorola's online store has replenished supplies and it's currently listed as in stock.
However, there is a note on the product order page saying that the phone may take as long as 7 days to ship because of high demand. The Moto X Developer Edition price tag is $649.99 but this gets you 32GB of internal storage and obviously an unlockable bootloader.
Other than the internal storage capacity the specs remain the same as for the standard Moto X, including a 1.7GHz dual-core processor, 4.7-inch AMOLED display, and 2GB of RAM. However the appearance differs as the Developer Edition has a special black and white woven design.
You can order the Moto X Developer Edition for Verizon at Motorola here. Alternatively the GSM version for AT&T and T-Mobile can be ordered at Motorola here.
Have you been waiting for the Moto X Developer Edition for Verizon to come back into stock? If you order the device it would be good to hear how long it took to arrive in your hands from the time of ordering? Let us know with your comments.