Asus Nexus 10 launch could be imminent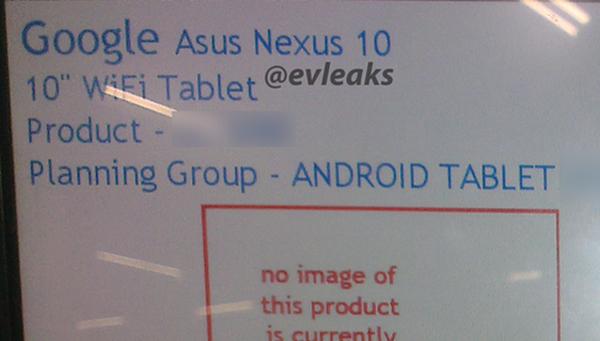 While Google is widely expected to launch a new smartphone later this month along with a new version of the Android mobile operating system, it is also thought that a new larger tablet will also be making an appearance, and an Asus Nexus 10 2 launch could be imminent.
Speculation has been growing over the last few weeks that Google would be ditching Samsung for this year's Nexus 10 model, and this was strengthened with sightings on a couple of retailers inventory systems along with pricing for the device.
Now as you can see from the image on this page the possibility of an Asus made Nexus 10 continues to grow courtesy of serial tipster's evleaks who have a good track record with this kind of thing. There has been talk that the device will raise the bar in tablet specs with a screen resolution of 2,560 x 1,600.
Previously leaks have suggested that the device will cost £349 so will continue the affordable Nexus pricing, even though it will be slightly more expensive than last year's model, which is the same thing that we saw with the Nexus 7.
The new tablet is set to become the first slate to have the Android 4.4 KitKat operating system on board, with more details about the firmware's new features being leaked recently. There has been talk that Google will be holding a press event on the 14th of this month but until press invites go out we won't know for sure.
Will you be considering a Nexus 10 this year?