iOS 7 experience on Android via iLauncher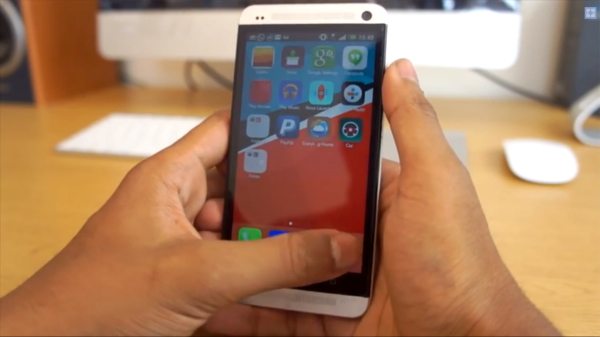 Not all Android users give a hoot about iOS 7, but we know there are a few of you out there that may be a little intrigued about Apple's new operating system. We have come across an Android app called 'iLauncher', which gives you the iOS 7 experience on your Android.
This app is fairly decent, there is one feature within iLauncher iOS 7 users would love Apple to add to its next update, a few iOS 7 users experienced motion sickness when using the new operating system, but this Android app allows users to disable the zooming function that makes iPhone users a little sick.
iLauncher provides a similar experience as iOS 7, same design with a few added extras. Once you have installed this app your entire Home screen will look like Apple's UI.
Main iLauncher Android app features include smooth scrolling, the ability to uninstall apps from the Home screen, you can edit exit mode by pressing the back button, support 5 rows mode just like the iPhone 5, 5S and 5C. The apps have rounded corners and gloss effects; it also includes a dock bar and so much more. The app does cost just a little over $2, for more information about iLauncher, please visit the Google Play Store.
If you do decide to install the app you must be aware that you may lose the ability to add widgets to the Android Home screen, shortcuts can be added still.
Not sure why Android users would want to add iOS 7 to their devices, but hey we are sure someone would like to give it a go. If you do decide to install iLauncher please give another app some thought, this Android app is called 'Espier Launcher iOS7' and unlike iLauncher this one is free.
Would you like iOS 7 on your Android device?