Numfeud iOS app review, invite friends to compete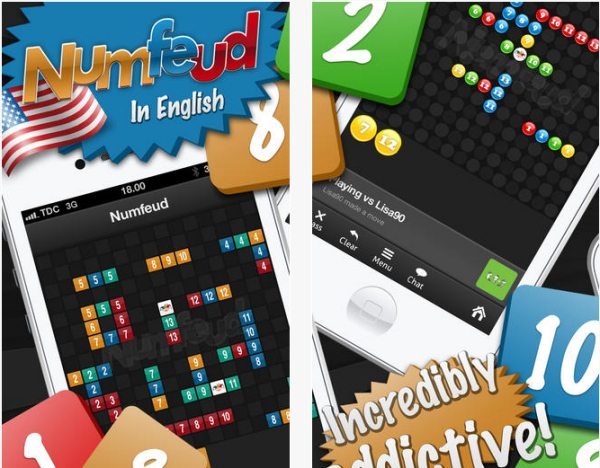 Designed by Jesper Mansa, Numfeud is a simple yet fun game that uses a concept of numbers and tiles to charm players and their opponents. But it requires a high strategic mindset for you to beat your opponent, rise through the ranks and become the ultimate Numfeuder that you've always wished to become.
In this exciting game of numbers, your mission is quite simple: Just finish laying down all the tiles before all your components. But before competing, you need to choose your opponent first, and then slide the tiles to your desired location to execute your moves. Now you are ready to start feuding.
Rise Through The International Ranks
You become the ultimate winner when you lay down the tiles in the correct order before your opponent gets the chance to do so. To achieve this, you are going to lay these tiles based on their colors and numeric order. Alternatively, you could lay them down with different colors but with same numeric value.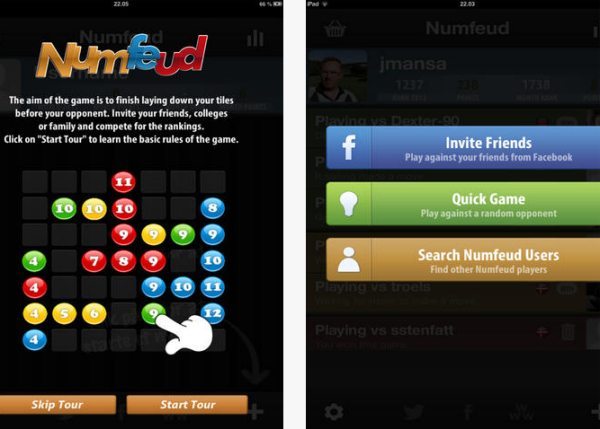 Numfeud is an iOS app that encourages thinking ahead and developing strategies that your opponent must not know. You'll find the gameplay very original and addictive as well. Many people who play Numfeud get hooked in a matter of minutes, and they can't resist the urge to play over and over again.

The pros of this iPhone app
1. It's a multi-player game puzzle with a very unique concept
2. It requires very strategic thinking in order to win. Of course, with consistent practice, you can always stay on top.
3. It's quick and easy to register, just use your facebook account and you are done
4. You can play with opponents across the world, including your facebook friends.
5. Numfeud is very easy to learn and it sharpens your brain as you rise through the levels.
Cons
There's nothing negative we can find out of this game, it's all amazing!
Final word
You'll get more benefits from this multi-player game. Because it's a turn-based game, you can play multiple games simultaneously. It's unique because you could be competing with all types of people across the world. However, if you want to get familiar with just a few people, then you can always invite a few of your social media buddies to join you. And if you've been playing the previous version of Numfeud, it's important that you check the new version 3.0.0, which comes with an addition of extra features to make the whole experience fun. So don't be left behind.
Please let us know if you are playing the addictive Numfeud iOS app?