Firefox OS 1.1 update now detailed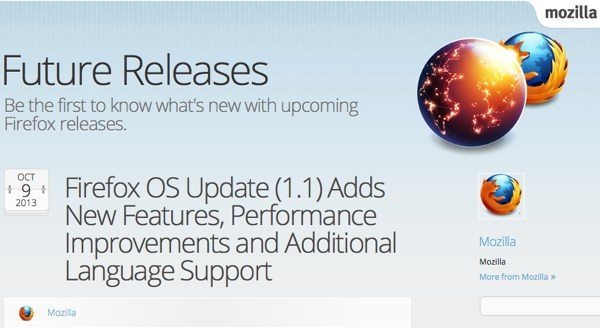 It's safe to say that only a very small percentage of mobile phones in use currently run Mozilla's Firefox OS. With that in mind it's good to see that Mozilla seems focused on Firefox OS, as the Firefox OS 1.1 update has now been detailed.
The mobile Firefox OS is a recent addition to operating system platforms and is very much a work in progress. Mozilla has now confirmed the Firefox 1.1 software update is coming soon for those devices using the operating system.
The update includes a number of improvements with one of the key changes being MMS support. This means that users will now be able to send and receive images, audio, video files and more via messages.
A music search facility is also included to help users find their favorite music more easily, and adaptive app search is now front and center on the home screen. Contact management changes mean that users can now import Gmail and Hotmail contacts, and an 'add to contacts' feature is now also available.
Other enhancements are to email, calendar and keyboard, and another area of the update concerns languages, with more than 15 languages now supported. As well as all this there is also improved performance with quicker load times and smoother scrolling.
Developers will also benefit from the update with an API enabling them to make use of push notifications for apps. Mozilla claims there are hundreds of improvements with this update, and to see more details head to the source link below. It's stated that the update will be available for current users and for developers soon.
Are you pleased to hear that Mozilla looks to be full steam ahead in developing its Firefox OS further? Are you eager to update to Firefox OS 1.1 as soon as possible? Let us know with your comments.
Source: Mozilla Blog