Samsung Galaxy Note 3 size in use, video compares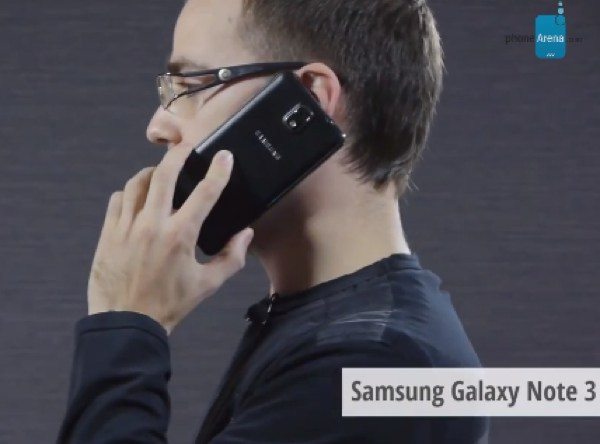 The impressive Samsung Galaxy Note 3 is one of the larger phablet-sized handsets available. If you're used to a standard sized phone though, you may wonder if you'll feel a bit of a numpty using such a large handset when out and about. If you check out the video here you'll get an idea of exactly how the Samsung Galaxy Note 3 size looks in use.
There's a growing trend for larger displays on smartphones as we discussed yesterday following reports of a larger screen size for the iPhone 6. The Galaxy Note 3 display size is 5.7-inches, stepping up from the 5.5-inch display on last year's Galaxy Note 2.
You may well be attracted to a new smartphone such as the Galaxy Note 3 that offers a much larger display than many other devices, but how will you feel using it in public? The answer to this is that you're unlikely to feel as uncomfortable as you might think about holding such a large handset to your ear.
The 3-minute YouTube video that you can see below this story shows one guy's experience of the size of the Note 3 when compared with other top handsets. The other phones shown in comparison are the HTC One (4.7"), Apple iPhone 5 (4.0"), Samsung Galaxy S4 (5.0"), LG G2 (5.2"), and the Galaxy Note 2 (5.5").
You'll see the phones being held to the ear from both front and side views to give you an idea of how you would also look. To be honest, although we may have once felt the size of the Galaxy Note handsets might have looked a little big, now it actually doesn't seem that much bigger than the others used.
Of course this could be because we're all starting to get used to seeing larger handsets. Alternatively it could be that the reviewer is also seen at the end of the video holding a Galaxy Note 8.0 tablet (8.0") to his ear in a rather tongue-in-cheek touch. By comparison, any of the smartphones look to be an acceptable size.
There will be plenty of people who really couldn't care less what they look like when holding a phone to their ear in public. For those of you who might be a little concerned though, check out the full video below.
What are your thoughts on the size of the Samsung Galaxy Note 3? Will you be sticking to a more standard sized handset, or maybe you're sold on a larger device? Let us have your comments on this.