HTC One Max filing lists specs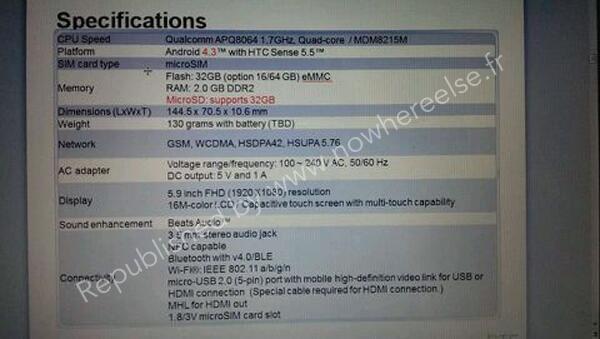 We have been seeing numerous leaks in recent weeks about a new phablet sized smartphone coming from HTC, and now a filing is listing the specs for the upcoming HTC One Max that have been open to a number of different rumours.
Recently we heard of some invites going out for the official launch of the HTC One Max, which has got a lot of consumers excited. Now what is believed to be the full spec sheet for the upcoming handset has been tweeted by Steve Hemmerstoffer.
If these prove to be accurate it may disappoint a lot of potential owners of the device as away from the Full HD 5.9-inch touchscreen display, it looks as if the smartphone will be coming with the quad core Qualcomm Snapdragon 600 processor, while previously the device has been rumoured to come with the Snapdragon 800, but there were also claims it may only feature the Snapdragon S4 Pro.
The rest of the specifications are listed as 2GB of RAM along with 32GB of onboard storage that is expandable via microSD card, which also fits in with previous leaks about the handset. This looks to be running Android 4.3 Jelly Bean along with Sense 5.5 that has recently been leaked via some screenshots.
It will also have a fingerprint scanner on the rear of the device that is set to be unveiled next week, and will see the device going head to head with the Samsung Galaxy Note 3.
Are you going to consider the HTC One Max?