BBM on friend's iPhone while you wait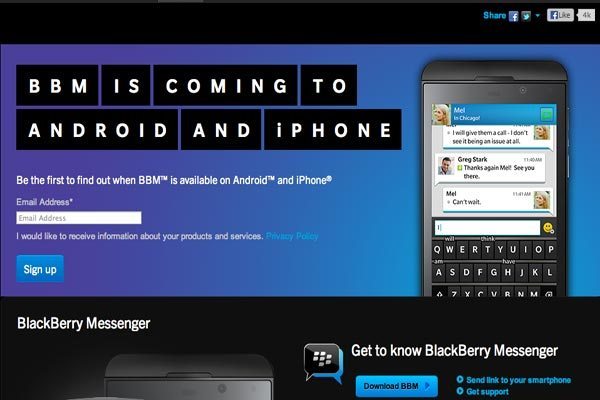 Today, we have had one too many emails land in our inbox about BBM being on iPhone already, but apparently not your iOS device thanks to the app being pulled a few weeks ago by BlackBerry. This story is well known for those that follow all the BlackBerry Messenger news for Android and Apple devices, but the amount of people seeing BBM on an iPhone is starting to annoy a growing number.
If it wasn't frustrating enough that you cannot download BBM on your iPhone at the time of writing, then how do you think some people feel when a friend or family member states "take a look at BBM on my iPhone"? This is the situation we have personally seen and keep getting emails about, or comments on Phones Review.
This morning the latest email read, "I am 15 years old with a new iPhone 5S running iOS 7, and I really want the BBM app on my iPhone. I am fine with waiting for BBM to release, but it is not good when you see friends at school showing you the very app you want but cannot download. This week I have seen two friends with BBM on their iPhone and I'm not happy with BlackBerry right now".
Have you seen BBM running on an iPhone, and if so does it upset you that you cannot use the app right now?
We did see the BBM app go live on iTunes in New Zealand for less than a day before BlackBerry pulled the app after a leak. Did you manage to download the BBM app on your iPhone before the official download link was pulled?
The BBM app is currently in beta for Android, although this is the second beta and some fans are starting to lose patience with the wait especially when they see others with the app installed.
We cannot confirm if these apps really do work, or if BlackBerry has stopped the servers behind the apps, so feel free to leave a comment if you have BBM installed on an iPhone and it works or if you have seen it working on a friend's device.