Verizon confirms HTC One Max availability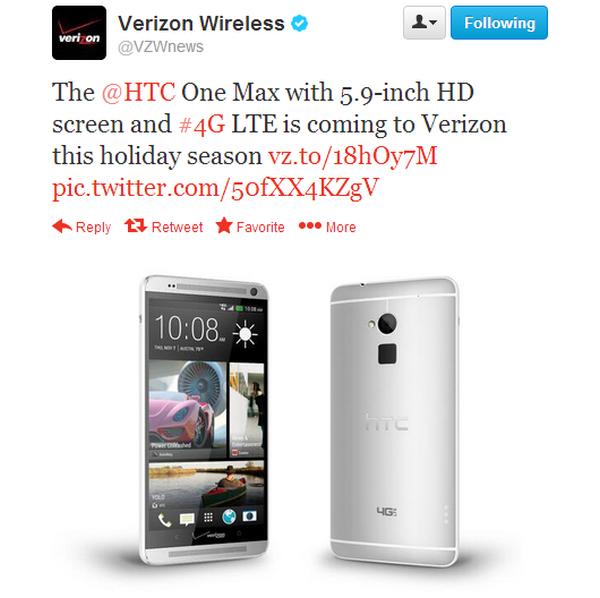 Last week the HTC One Max was unveiled to the world officially which followed months of leaks that revealed most of the details of the handset, and while the handset is getting released in the UK to begin with Verizon Wireless now confirms the HTC One Max availability.
We already know that UK residents are getting first dibs on the HTC One Max but the device was promised to be arriving in the US before the end of the year via Verizon and Sprint. Now Verizon has taken to Twitter and provided the image that you can see on this page confirming the device will be arriving during the holiday season.
While no exact date was given or any pricing details for the HTC One Max the company has also provided a sign up page so customers can be notified by email once new information about the handset becomes available.
To recap the HTC One Max is largely based on its smaller cousin but features a huge 5.9-inch Full HD display that is powered by the Qualcomm Snapdragon 600 quad core processor clocked at 2.2GHz. The device will be available in either 16GB or 32GB of built in storage that can be expanded up to 64GB via microSD card.
We have the same 4MP UltraPixel rear facing camera along with a 2.1-megapixel front facer, and we have already seen some official accessories emerging for the device that includes a case that will provide the handset with even more power, which was rumoured to be coming before the official announcement.
Are you going to get the HTC One Max?