Nexus 5 in white tantalized pre-release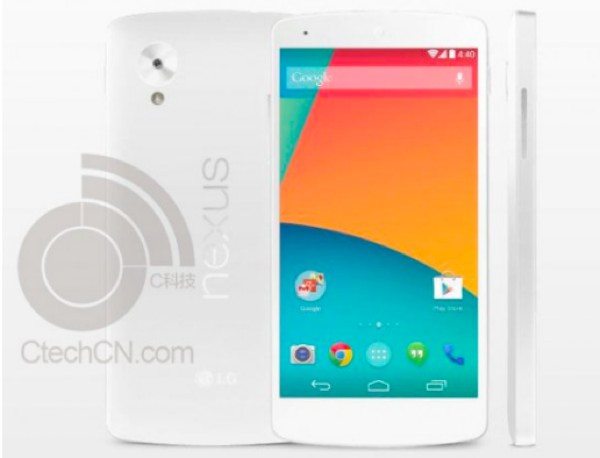 The Google Nexus 5 is definitely one of the most talked about phones right now ahead of its official launch. The next Nexus smartphone is hugely anticipated and can't come soon enough for the many Android device enthusiasts out there. Now to tantalize you as you wait, the Nexus 5 in white has been leaked.
The Nexus 5 is expected to run the new Android 4.4 KitKat OS and both are expected to be officially launched any day now. We've also seen some rumored dates for a launch event come and go and recently another date of October 28th was being speculated.
Further to this invites were sent out by Google to an event on October 24 and this led to hopes that the Nexus 5 and Android 4.4 were to be unveiled at last. However, it now seems more likely that this event will feature Google Play news.
While we wait for something more concrete on when we might finally see the Nexus 5, another leaked image of the phone has appeared. This is not the first leaked image we've seen, and recently we saw the Nexus 5 appear briefly on the Google Play Store with pricing.
However, this one differs from other leaked images as it shows a Nexus 5 in white. You can see the new leaked image of a white Nexus 5 below this story and we wouldn't be surprised to see a white version appear. This is said to be a press render of the handset and does tie in with the leaked images we've seen of the black version of the Nexus 5.
We cannot verify the authenticity of this latest leaked image, although it does come from a source that has come up with reliable information recently. We would say that if this is the real deal it looks pretty stunning and will have plenty of potential Nexus 5 purchasers drooling. We haven't seen much so far on a Nexus 5 white version, but think this would be extremely popular.
Hopefully it won't be too much longer until we finally see the official unveiling of the device and hear the Nexus 5 release date, specs, features and of course confirmed pricing. In the meantime we'd really like to hear your thoughts on the Nexus 5.
Are you hoping that the Nexus 5 release brings a white version to the table? Maybe it's all about the specs for you, in which case what are you most hoping to see confirmed? Let us have your comments on the Google Nexus 5 smartphone.
Source: CtechCN (Translated)