New iPad 5 turns out to be iPad Air, specs and more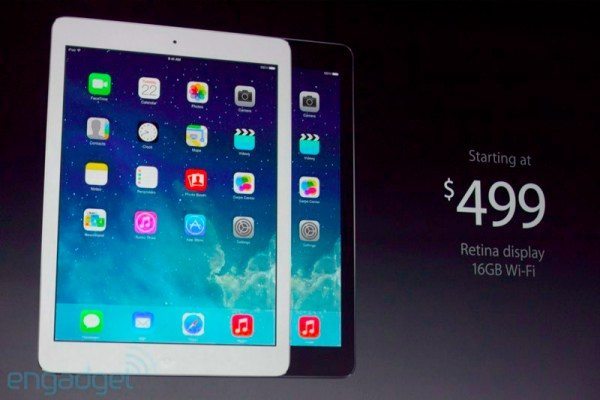 The Apple event is still ongoing as we write and we've just heard the first details about the new full-sized iPad. This has long been referred to as the iPad 5 but it has turned out to be titled the iPad Air. This seems to be a pretty good title considering it weighs only one pound!
The iPad Air (formerly dubbed the iPad 5) is being made official as we speak and so we'll bring you some initial details for now. The new iPad will have a 9.7-inch display with a 43% slimmer bezel as had been rumored. It's lighter and thinner and also touted to be more powerful as we might have expected from a new iPad.
The tablet is only 7.5mm thick or perhaps we should say thin, and that makes it 20% thinner than the previous iPad. Weight is now only 1 pound compared to 1.4 pounds for the last generation. Another rumored inclusion was that the new full-sized iPad would have the 64-bit A7 processor that appeared in the new iPhone 5S and that has also come to pass.
Apple claims that the iPad Air will be 8 times faster than the very first iPad, with graphics 72 times faster. The M7 motion co-processor of the iPhone 5S also makes an appearance. The iPad Air is also the first iOS device that will feature MIMO technology meaning faster WiFi.
Other specs for the new iPad Air include a 5-megapixel iSight camera, 1080p HD video camera, new Facetime HD camera, improved backside illumination, dual mics and expanded LTE support. Battery life is touted as around 10 hours.
The iPad Air will replace the previous-generation iPad and the starting price will be $499 for the 16GB Wi-Fi version. For the Wi-Fi + Cellular version the starting price will be $629, so pricing is as we predicted. It will release from November 1 and the first wave of availability will include many countries including the US, UK, China and Japan.
We'll be bringing you more news from the Apple event that is still in progress and that will include details of the iPad mini 2. What are your initial thoughts on the iPad Air (aka iPad 5)? Let us know with your comments.
Source: Engadget