Samsung Galaxy Note 3 vs Sony Xperia Z1, can't go wrong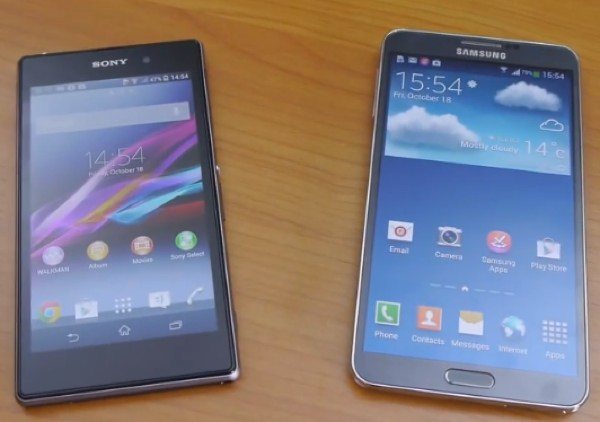 Two of the most recent additions to the smartphone market are the Samsung Galaxy Note 3 and Sony Xperia Z1. Both have been extremely well received, and you may be trying to choose between them as your next smartphone purchase. Today we have a Samsung Galaxy Note 3 vs. Sony Xperia Z1 video that outlines what both of these phones have to offer.
The Galaxy Note 3 is a phablet-sized device with a 5.7-inch display while the Sony Xperia Z1 is a camera-centric smartphone. These factors alone may help you make up your mind between the two, but if not then there is plenty more to take into account.
Both phones have notable specs and features and have earned excellent reviews (Note 3 here, Xperia Z1 here), and the 14-minute YouTube video comparison of the phones below may make it clearer as to which is the right choice for you.
It begins with looking at the designs of both phones noting that its size makes the Xperia Z1 more comfortable to hold and the easier to operate of the two. You'll then see a tour of the hardware and the benefit of the S Pen stylus for the Galaxy Note 3 is noted.
There are then details of the displays, user interfaces, specs, cameras (including image and video samples) and more. Battery life is also looked at with the Note 3 having the edge and there's a lot to consider about both devices.
Ultimately making a decision between the two is not that easy, as they have plenty to offer and you can't go that wrong with either. The reviewer weighs up the pros and cons for each phone and we'll let you check out the video below this story for the overall conclusion.
When you've done that we'd appreciate it if you could let us have your comments. Did the video help you to make a choice between the Samsung Galaxy Note 3 and the Sony Xperia Z1? Which one most appeals to you and why?