Microsoft Surface 2, Surface Pro 2 and accessory prices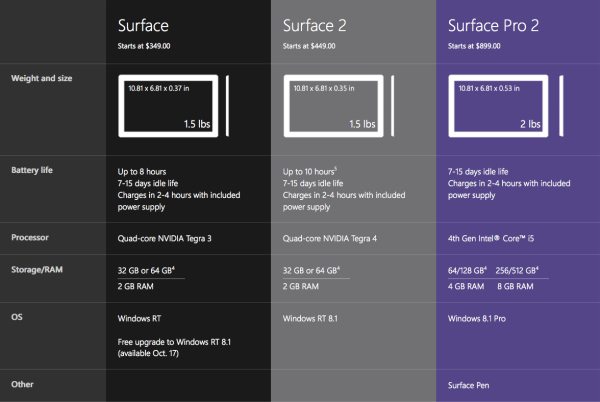 The new Microsoft Surface 2 and Surface Pro 2 can be purchased right now across 21 different countries including US and the UK, lets now look at the prices and quick specs.
The Surface 2 price starts from $449 and comes in 32 and 64GB variants featuring a 10.6-inch ClearType Full HD display, NVIDIA Tegra 4 processor, 5-megapixel rear camera, 3.5-megapixel front camera, 1080p video, USB 3.0, full-size USB port has been upgraded to for up to four times faster file transfers, as well as Windows 8.1 RT, it is a lot thinner and lighter than its predecessor.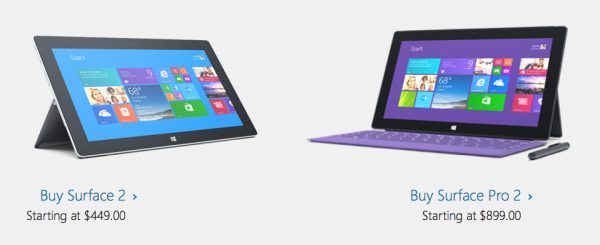 The Microsoft Surface Pro 2 is price starts from $899 and comes in 64/128/256 and 512 GB sizes, specs includes the ability to run nearly all your Windows software, it is a laptop that looks like a tablet, it also features a fourth-generation Intel Core i5 processor and 4 GB of RAM and much more.
There are new Surface accessories to buy as well now; these include the backlit Touch Cover 2 and Type Cover 2 keyboards ($120 and $130 respective), Arc Touch Mouse Surface Edition ($70), Wireless Adapter for Typing Covers ($60). The Docking Station and Power Cover will ship early 2014 priced at $200 each, there will also be a USB car charger arriving in 2014 for $50 — please visit here for more details on the accessories.

Will you be purchasing the Microsoft Surface 2 or Surface Pro 2?