Nokia Lumia 1020 price cut is shocking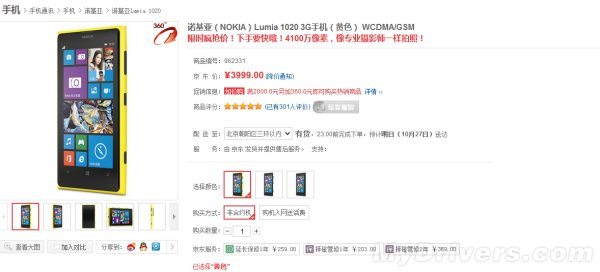 It seems the Chinese are not liking the Nokia Lumia 1020 as much as we thought they would, and because the smartphone is not making a big enough impact in China a price cut has been made.
It is shocking to learn that the Nokia Lumia 1020 price cut is already showing up online; the screenshot you can see below is courtesy of MyDrivers.com (Translated).
We all know that China is the worlds largest smartphone market, but the Nokia Lumia 1020 is not making enough of an impact to keep the first released price tag. When the phone was first released in China it went on sale for a massive price of CNY5, 999, which is roughly $1000 (€715).
Only two months later the Nokia Lumia 1020 is on sale for 3,999 Yuan (Around €475), this is a massive price drop but will it persuade those in China to purchase this smartphone?
In the US you can buy the Lumia 1020 for only $99 on contract, originally it was $299, in the UK you can get you hands on the smartphone for free of you sign up to a two-year contract, tariffs vary if you want it for free. If you want the Nokia Lumia 1020 off contract then expect to pay around €600.
Phones Review recommends that you wait a few more weeks if you fancy getting your hands on the Lumia 1020, we believe the price will drop again.
What do you think of the Nokia Lumia 1020?