Sony Xperia Z1 vs LG G2 vs Galaxy Note 3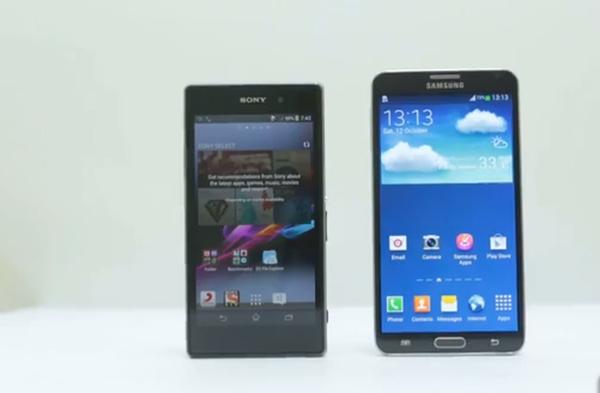 Fans of the Android platform are beginning to be treated to a whole host of high end smartphones from a variety of companies, and today we are looking at some of the leading players with the Sony Xperia Z1 vs. LG G2 vs. Samsung Galaxy Note 3 in some videos.
If you are not a fan of Samsung hardware on the Android platform there is still a lot of high quality smartphones to be had in various shapes and sizes, and below this page we have a couple of videos looking at some of the leading hardware that is available.
The first video is looking at the Samsung Galaxy Note 3 against the Sony Xperia Z1 and talks about the fake leather rear that the Samsung now uses which improves the feel of the device in the hand. The Sony on the other hand is built using aluminium and glass in a design that it has been using for a number of its flagship handsets this year.
Obviously the Note 3 is larger than the Xperia Z1 but it weighs less and the video continues by having a look around the two devices and the positioning of their various features and ports. We also get to see a number of the features the two handsets have in terms of software with the video lasting almost 11 minutes.
The second video we have for you is looking at the Sony Xperia Z1 but this time alongside the LG G2. The video starts by having a look at the design of the two smartphones, and despite the LG have a larger sized display the form factor of the device is smaller than the Sony.
Again we get to see the positions of the various features and buttons of the two smartphones, while both handsets using capacitive keys on the display. We get a rundown of the various specifications of the two devices before we get to see how some of the software features work. Check out the two videos for yourself and tell us what you think of the handsets.