Android smartphone dominance in Q3 increases over Apple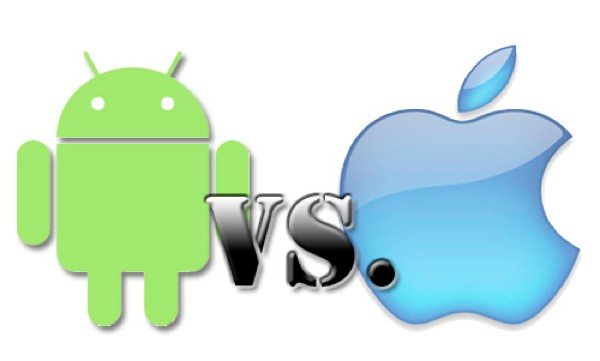 Something we note time and time again at Phones Review is just how loyal people are to their choice of smartphone platforms. Every time we write about Samsung vs. Apple or Android vs. iOS we receive comments from readers keen to defend their own choice of operating system. The latest figures for Q3 show that Android smartphone dominance has increased further over Apple.
Of course Samsung is joined by many other manufacturers when it comes to representing the Android platform, such as LG, HTC, Motorola, Sony and more. However, Samsung continues to rule the roost as the major Android smartphone manufacturer.
We should also bear in mind that Apple's iOS smartphone share is only made up from iPhone sales, against the vast array of Android smartphones available. Nevertheless, the latest data available shows some interesting markers, as Android smartphone global share has grown at the expense of Apple and Blackberry.
A new report states that during Q3 the global amount of smartphones shipped totaled more than 251 million. Compared to the same quarter for last year when that figure was 172.8 million that's an annual growth of 45%, and the driving factor in this growth is a strong demand for not only Android devices but also Windows Phone handsets across Asia and Europe.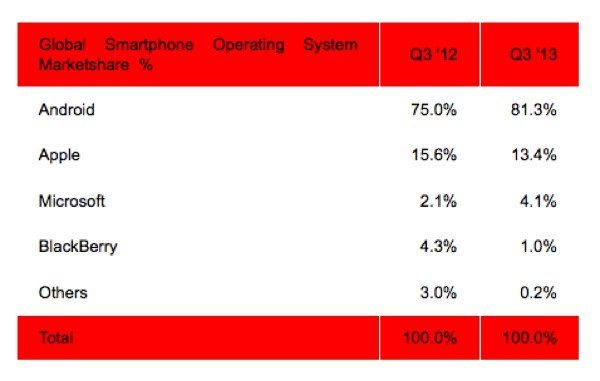 Android devices shipped totaled 204.4 million, equating to a global share of a vast 81.3%, up from 75% for Q3 2012. Microsoft Windows Phone handset shipments also grew, from a 2.1% global share in Q3 2012 to 4.1% for Q3 this year, much of this due to the popularity of Nokia Lumia smartphones in some regions.
On the other hand, over Q3 Apple's global share of smartphones shipped fell to 13.4% from 15.6% over the same quarter last year. BlackBerry's global share also fell from 4.3% in Q3 last year to a mere 1% for Q3 this year. That's pretty dire news for the company after it was hoped that BB10 and devices running it might turn things around.
We'd really like to hear what readers think about this latest global smartphone marketshare figures. How much longer do you think Android smartphone share can sustain this amount of growth? Perhaps you're shocked at how low BlackBerry has fallen, or that the share for Windows Phone handset is growing well? Do you think the recent release of the new Apple iPhones will see a notable rise for Apple's share again in Q4?
Source: Strategy Analytics