Galaxy Note 3 price discounts on Amazon for US carriers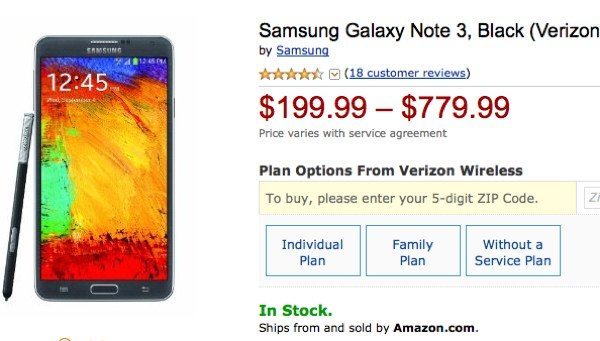 There will be plenty of people who are intending to purchase the Samsung Galaxy Note 3 over the coming weeks. The phone has had hit reviews and is already proving extremely popular since its recent release. Before you buy a Sprint, AT&T or Verizon Galaxy Note 3 though, it's worth considering the price is cheaper on Amazon for those US carriers.
The Galaxy Note 3 price from Verizon at launch was $299.99 on the usual two-year contract, which was exactly the same as for Amazon. Meanwhile we informed readers that Sprint was offered the Galaxy Note 3 at a cheaper price of $249.99 on contract.
The current prices on Amazon US for the Galaxy Note 3 are cheaper though, although the saving on Verizon is the biggest of all. At the moment Amazon is offering the Note 3 on Verizon at $199.99 on contract, a whopping saving of $100. If you're upgrading the cost is a little more at $229.99, still a saving worth having.
Meanwhile the Amazon price of the Note 3 on Sprint was recently $219.99 on a new contract but is now $199.99, matching the Verizon price. Alternatively, if you're upgrading then the contract price is $249.99.
You won't save anything near as much for the Note 3 on AT&T from Amazon, as the price is now $284.99 on contract although that's at least a small saving. That price applies to both new customers and existing customers.
If you want to find out more or order the Samsung Galaxy Note 3 then head to the Amazon pages linked to here for the phone on Verizon, Sprint or AT&T. If you're still undecided as to whether the Samsung Note 3 is the right phone for you, then you might want to check out our Note 3 roundup of video reviews.
Will you be saving money on the Samsung Galaxy Note 3 by ordering it from Amazon? Maybe you've seen some even better prices offered elsewhere? Let us know by using the comments box below.