Star Wars: Tiny Death Star iOS app now available for US, UK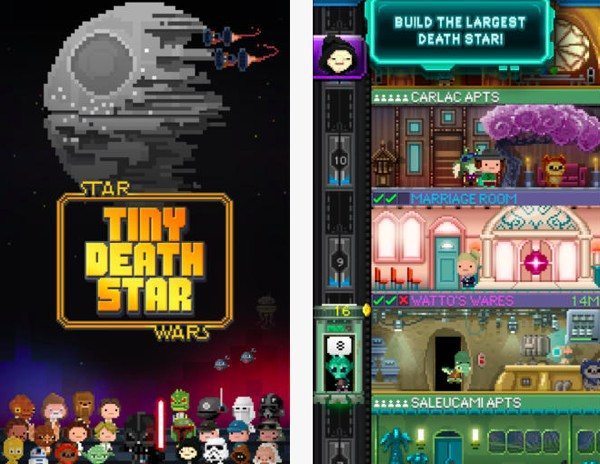 If you've been avidly waiting for the release of the Star Wars: Tiny Death Star iOS app in the US or UK then the good news is that it has become available today. The app has already been available for several weeks in Australia and more recently in New Zealand, and now those in the US and UK get a chance to play.
Star Wars: Tiny Death Star by LucasArts is a themed version of Tiny Tower from NimbleBits, a hugely popular iPhone game. Gameplay is virtually the same as for Tiny Tower except that players are building and managing different levels of the Empire's Death Star.
You'll need to provide 'bitizens' with work and housing units and complete tasks to amass coins from which you can build your Death Star. The bitizens in Star Wars: Tiny Death Star include 30 species that you may recognize from Star Wars such as Wookiees and Ewoks.
The elevator mechanic of Tiny Tower also appears in Star Wars: Tiny Death Star, and you'll need to master time management and gather more assets to unlock further tasks and challenges.
Players will also be able to see Star Wars characters such as Han Solo, Luke Skywalker, Jabba the Hutt and Chewbacca in story moments from the Star Wars movies that can be unlocked.
The app is free but in-game currency dubbed "Imperial Bux" can be purchased. For a limited time LucasArts is offering 50% more starting bux if you download the app.
You can see more or download the Star Wars: Tiny Death Star iOS app from iTunes here. It's compatible with the iPhone 4, iPhone 4S, iPhone 5, iPhone 5S, iPhone 5C and iPad running iOS 6.0 or later.
Are you looking forward to playing the Star Wars: Tiny Death Star iOS game app from the App Store? Let us know what you think of this app by sending us your comments.