iOS 7.0.4 released, fixes FaceTime and jailbreak safe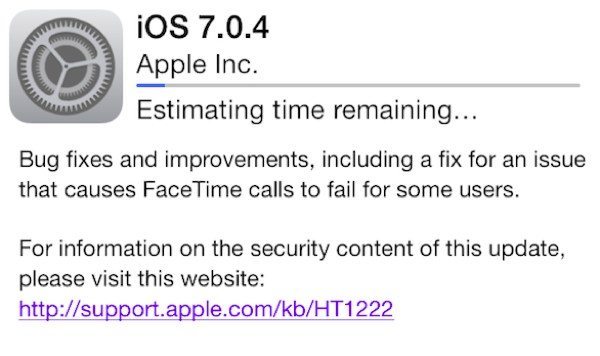 Now that's what we call good timing! Only earlier today we posted an article about how iOS 7.0.4 was needed in order to fix issues from iOS 7.0.3 that are still plaguing some device users. As if by magic the iOS 7.0.4 update has now released with a fix for FaceTime and it's also jailbreak safe.
In the last few hours the iOS 7.0.4 update was made available for iPhone, iPod touch and iPad. Apple states that the update is for bug fixes and improvements, specifically stating the FaceTime fix mentioned above.
You may have received notification already about the over-the-air update being ready, but if not head to Settings followed by General and then Software update. Alternatively you can check by plugging your device in iTunes.
Those with the iPod touch 4th generation are also receiving an iOS 6.1.5 update while 6.0.2 has been issued to the Apple TV firmware.
Jailbreakers will be very pleased to hear that as iOS 7.0.4 offers no changes to security it won't hamper your jailbreaking opportunities and is jailbreak safe, according to well known hacker iH8sn0w. That's assuming a jailbreak ever arrives for iOS 7.
This snippet about iOS 7.0.4 being safe for jailbreakers was later confirmed by the renowned MuscleNerd. However, he also suggested that restraint be used and said, "test your ability to avoid it!"
We can only hope that this latest update will not bring any further issues, as we know from the many comments that we have recently received that this is causing a lot of frustration. We'd really like to hear from our readers about the iOS 7.0.4 update.
Have you now updated to iOS 7.0.4? If you had any previous issues, has iOS 7.0.4 now resolved them? Are you pleased to hear that iOS 7.0.4 is safe for jailbreakers? We're always interested to receive your comments.
Source: iDownload Blog