AT&T sale slashes iPhone 5S price, Lumia 1520 and more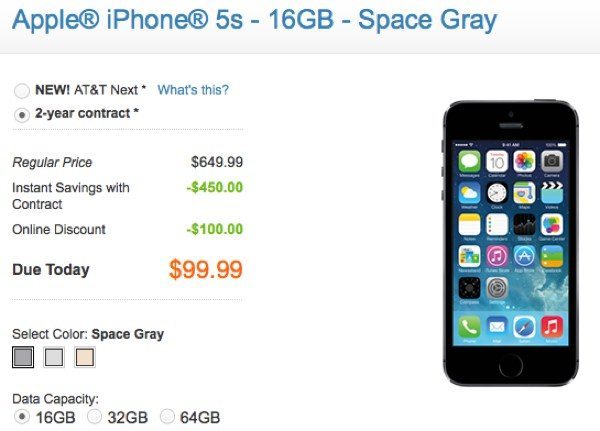 If you're in the US and just about to purchase a new smartphone then you might want to check out some AT&T sale prices for various devices first. AT&T has slashed the iPhone 5S price as well as prices for the Nokia Lumia 1520 phablet, Samsung Galaxy S4 and more.
These price cuts are available for AT&T online orders and offer a great incentive for purchasing some of the best smartphones available on the carrier. The iPhone 5S is now available on AT&T for just $99 for the 16GB version on contract. That will save you a massive $100 off the price from Apple right now.
However, if your fancy is the 32 or 64GB models then those remain at the same usual prices of $299 and $399 on contract respectively. You might prefer to pay less and get your hands on the iPhone 5C, which is also subject to a price cut.
The contract prices of the iPhone 5C from Apple are currently $99 for the 16GB version or $199 for the 32GB variety. However, the AT&T sale price equivalents are now just $49 for the 16GB model or $99 for the for the 32GB option. Again, those are certainly amounts worth saving.
The Nokia Lumia 1520 phablet was already announced with a $199 contract price for AT&T. However, even before it has released on the carrier AT&T is now taking pre-orders for the tablet with a contract price of only $99. The Lumia 1520 releases on AT&T on November 19, so that's just two days away.
Those hoping to get the Samsung Galaxy Note 3 at a knock down price from AT&T will be disappointed though, as that's one of the phones not on sale. The Galaxy Note 3 is still selling at $299 with a contract, making the price of the Lumia 1520 even more attractive.
Just some of the other handsets subject to price cuts on AT&T are the Nokia Lumia 1020, the Nokia Lumia 925, the Samsung Galaxy S4 Zoom, Samsung Galaxy S4, BlackBerry Z10, HTC One, HTC One mini, LG G2 and LG Optimus G Pro,
All of these deals are available for online orders right now and come with free shipping, so it's worth checking out more or ordering from AT&T here. These deals are for a limited time only while stocks last and all require new 2-year contracts.
Are you going to take advantage of the AT&T sale prices for one of these smartphones? Will your choice be the iPhone 5S, Nokia Lumia 1520 or which other device? Let us know with your comments.