iPad split keyboard patent featuring candidate bar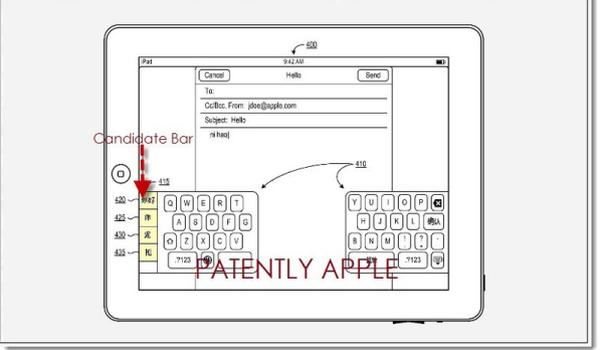 Android users have got used to the variety of different keyboard applications that offer something different and often better than the standard offering, and now an iPad split keyboard patent has appeared featuring a candidate bar.
Split keyboards for touchscreen devices are nothing new and a number of Android apps can offer something similar, but a recent patent application has been made by Apple for a split keyboard on the iPad with a candidate bar.
This is placed next to the left side of the keyboard with a character input that is received from the keyboard, and the device may update this bar to feature candidate characters that could relate to the character input received.
These may be certain letters or words, numbers, or phrases which would work in a similar way to the autocorrect functionality of the iPhone. The idea is to get the candidate characters to be listed in an intuitive way and become more user friendly and help speed up the process of typing on an iPad.
This split keyboard is being designed to maximise typing with the candidate bar able to be used in the horizontal or vertical position, and there is even a scrolling feature for the candidate characters that will be displayed on the bar.
Originally the patent was filed in July of last year but has seen some changes since then, but do you like the idea of this keyboard on the iPad?
Source: Patently Apple.