iOS 7.1 beta released to devs, public release possibly January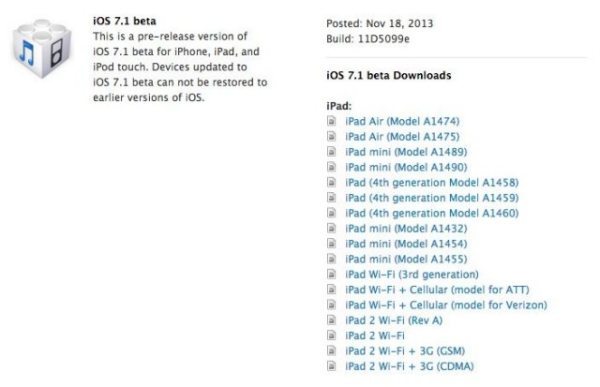 Apple has at last release its first iOS 7.1 beta to devs; registered developers are now getting to grips with the new update (Build number 11D5099e).
The new iOS 7.1 beta can be downloaded via the developer center, we have reported a few times about the iOS 7.0.4 problems (Here and Here)so for Apple to release the new iOS 7.1 beta is great news as it means the iOS 7.1 public release is coming soon.
The iOS 7.1 beta can now be downloaded to the iPhone and iPad, if you look at the tweet below by hacker iH8sn0w, he says that the iOS 7.1 beta will expire on January 13, 2014, so does this mean we will likely see a January public release or will they give developers 7.1.2?
Today's iOS 7.1 beta 1 (11D5099e) released to developers expires on Monday, January 13, 2014 @ 12AM (GMT). #TheMoreYouKnow

— iH8sn0w (@iH8sn0w) November 18, 2013
iDB have found some interesting new things within iOS 7.1, and these include a notification change, before it said 'No Missed Notifications,' but now it says 'No Notifications' when NC is cleared. They also report that the new Yahoo logo is now present in NC, as well as Weather app.
Other Changes iDB have found:
– seems to be a number of bug fixes related to stability/performance
– new 'HDR Auto' feature in the Camera app
– new 'Upload Burst Photos' option in Settings app (Photos & Camera tab)
– new 'Use Dark Keyboard' option in Settings app (Accessibility tab)
– new 'Darken Colors' option, under Increase Contrast (Accessibility tab)
– enable or disable bold text without restarting the device
– new dialogue when restarting iPhone 5s reads "Touch ID requires your passcode when iPhone restarts"
When do you think Apple will release iOS 7.1 to the public?