HTC One Max vs LG G2 video decides outcome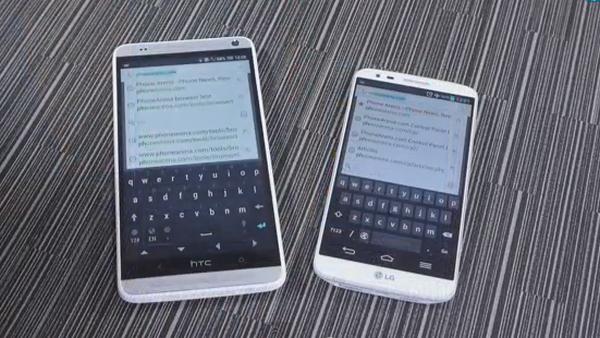 Fans of the Android platform have an ever increasing number of handsets to choose from at a variety of price levels, but if it's a high end device you want there are lots of smartphones to choose from, and today we have the HTC One Max vs. LG G2 with a video deciding the outcome.
Below this article we have a video that is almost 15 minutes long that is having an in depth look at the two handsets, which kicks off by stating that the HTC One Max is "gigantic" that compares to the LG G2 that is a more reasonable size.
Side by side the HTC One Max makes the LG G2 look really small although it does still have a 5.2-inch display compared to the 5.9-inch HTC. It was felt that the HTC One Max was just a little too big with one handed use almost impossible for the average user.
We then look at the designs of the two handsets and the fingerprint scanner on the HTC was a bit clunky to use and not very user friendly. All the relative buttons and features around the two devices are highlighted with the rear buttons of the LG G2 being liked.
The video than has a look at the screen quality of both devices while running through the specs of them, and the screen on the HTC was liked for its realistic reproduction and preferred to the LG that was found to be a bit off with colour reproduction.
We then get to see the various Android overlays that both handsets use including the HTC Sense 5.5 which was liked, but the LG overlay was found to be a bit cartoonish. There is a look at the performance of the two devices with both found to be really snappy without much difference.
The speed of each handset is compared for Internet browsing before media playback is compared including audio reproduction. A final verdict is provided but we won't spoil the outcome for you so you will have to watch the video in full to find out.
Have you been considering either one of these handsets?