iPad Mini 2 Retina Cellular sees US carrier delays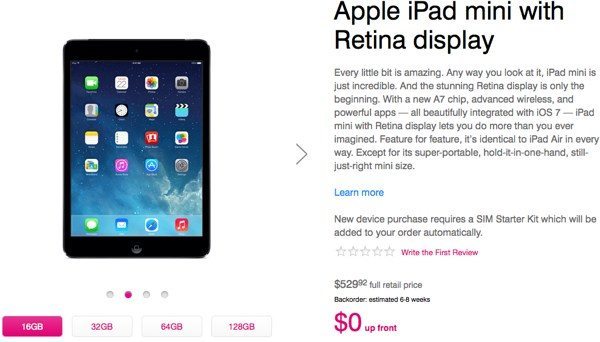 If you're in the US and thinking of purchasing the iPad mini with Retina display aka iPad mini 2 over the next few weeks then it might not be as easy as you expect. The Retina iPad mini Cellular option with 3G/4G LTE support is facing US carrier delays, with backorders for shipping on all of the big four.
A few days ago we discussed availability of the iPad mini 2 Wi-Fi models from Apple retail stores, with the 32GB option being the easiest to obtain at that time, and larger capacity models being in short supply. However, the situation was much improved if ordering the Retina iPad mini Wi-Fi from Apple online.
Many people will be heading to carriers to buy their iPad mini 2 though, and now delays are being reported from all the major US carriers for the Wi-Fi + Cellular options that offer LTE support. Verizon is now giving a shipping date of December 2, where previously it was November 25. Meantime AT&T is taking longer, with a 3 to 4 week shipping time.
We've also just checked Sprint where shipping is shown as up to 2 weeks, while T-Mobile fares worst of all with a 6 to 8 week shipping time. Therefore orders of the iPad mini 2 Cellular models might not arrive before Christmas.
The good news is that if you want to purchase the iPad mini 2 Cellular options via Apple online, the shipping times are currently listed as 5 to 10 business days. However, Apple in-store pickups for the cellular models of the new iPad mini are in limited supply.
Apple simply doesn't seem to have enough stocks to keep carriers supplied, a complete turnaround from the iPad Air that is readily available. It's a real shame that carriers are having such difficulty getting iPad mini 2 Cellular options in plentiful supply, especially with Christmas fast approaching. You may also be interested in our recent iPad mini 2 review roundup.
Let us know how you get on if you're about to purchase the iPad mini 2 Wi-Fi + Cellular through a US carrier. Is the shipping time you've been given better or worse than at the time of writing? Send us your comments on this.
Source: Cnet