HTC One, Samsung Galaxy devices delisted by Futuremark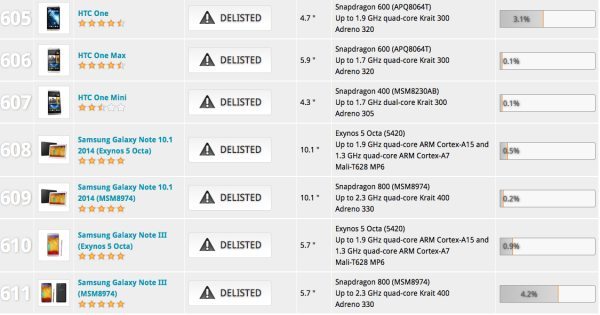 When you visit Futuremark, the firm behind the creation of benchmarks that allow people to reliably measure, manage and enable computer hardware performance you will see that they have delisted a few HTC and Samsung devices.
The Android devices that Futuremark have delisted include the HTC One, HTC One Max, HTC One Mini, Samsung Galaxy Note 10.1 2014 (Exynos 5 Octa), Galaxy Note 10.1 2014 (MSM8974), the Samsung Galaxy Note 3 (Exynos 5 Octa), and the Note 3 (MSM8974).
Consumers rely on these Futuremark benchmarks, these provide an accurate and unbiased result, it is in fact good for the devices reputation, and so to have them delisted does not really say a lot.
If they have delisted these Android devices, does it mean they have disbelieving scores?
It seems they have been removed from the system for rigging benchmark tests; these devices apparently had a line of code that routinely clocked the CPU and GPU to maximum whenever a known benchmark utility was initialized. In a nutshell the benchmark scores showed a 20 percent higher score than what they should really have.
There is an app called 3DMark – The Gamers' Benchmark that has had an update that now includes models with suspicious benchmark scores being delisted from the Device Channel, visit Google Play for more information.