iPad Air vs Samsung Galaxy Tab 3 10.1 video review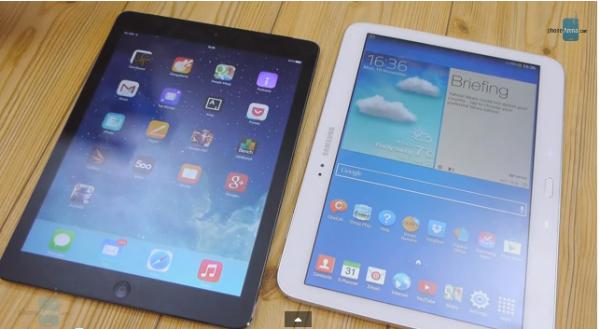 If you are after a new tablet PC this year there is certainly a lot of choice available at various pricing levels and if you have no brand loyalty this decision can be even tougher, and today we have an iPad Air vs. Samsung Galaxy Tab 3 10.1 video review for your viewing pleasure.
The video that we have embedded below this page is 9.5 minutes long and is comparing the Samsung Galaxy Tab 3 10.1 against the Apple iPad Air, while many would think it more fairer if this was against the Galaxy Note 10.1 2014 but we have seen this comparison before.
We get a look at the design of both devices and it has to be remembered that the Galaxy Tab 3 is priced much lower than the iPad Air, and much is made of the more premium build of the iPad and its lighter feel.
The reviewer comments on the lack of a quality build the Samsung has but some of these videos make you wonder if the reviewer is remaining fully impartial, and some may say he is an Apple fan boy. We get a look at the specifications of the two displays, and the iPad Air display is preferred for its clearer image.
We get to see both operating systems in action with the reviewer again favouring the iOS 7 offering saying it's much easier to use, but this again makes you wonder about his favouritism. He does mention that Android allows users to have various widgets on the home screen.
We see some of the specs from the internal components before moving onto some web browsing, and then we get to see the cameras in action. There wasn't that much between the two cameras with only a slight lean towards the iPad Air until we get to lower light situations.
Check out the full video and tell us what you think of this comparison.