LG G2 vs Nokia Lumia 1020 camera results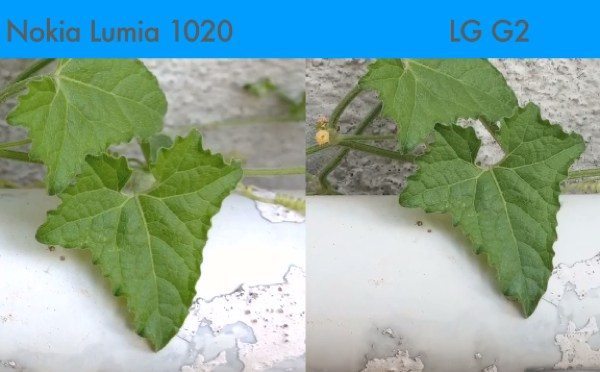 The LG G2 and Nokia Lumia 1020 are both notable smartphones that have arrived in the last few months. Plenty of device enthusiasts might be considering purchasing one of these phones during the holiday season, and with that in mind we have an LG G2 vs. Nokia Lumia 1020 camera results video to show you.
We've written many articles now on both of these devices so if you want to read more on either then check out the LG G2 or Nokia Lumia 1020 posts at the links. The LG G2 is an impressive Android smartphone while the Lumia 1020 runs Windows Phone 8, and this alone may decide any choice between them for some buyers.
The camera set-ups of various mobile devices are becoming increasingly popular to buyers though, and both of these handsets are well equipped in that area. The LG G2 has a 13-megapixel rear camera with optical image stabilization, LED flash, HDR, 1080p video capture @60fps, and also a 2.1-megapixel front-facer with 1080p @30fps.
On the other hand the Nokia Lumia 1020 has a 41-megapixel rear camera with optical image stabilization, Carl Zeiss optics, Xenon and LED flash, PureView technology, 1080p video capture @30fps and 4x lossless digital zoom. It also has a 1.2-megapixel front-facing camera with 720p@30fps.
The short YouTube video that we have embedded below this story will give you an idea of how both cameras of these smartphones perform and shows side-by-side sample images taken from the same spot and in the same conditions.
The video goes on to show video footage taken with both phones, again shown side-by-side to give a really good comparison. You'll all have your own ideas of which offers the better results for images and video capture and we'd like to hear from readers about this.
Which camera results do you think are best from the LG G2 and the Nokia Lumia 1020? Will you be buying one of these two smartphones over the coming weeks? Send your comments to let us know.