iPad Air vs Sony Xperia Tablet Z, overall winner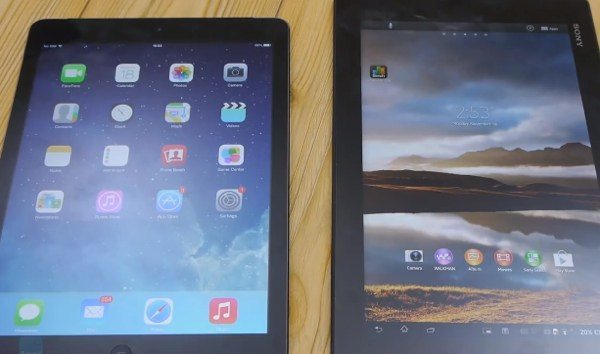 This holiday season a new tablet will make its way onto plenty of wish lists and two that are well worth consideration are the Apple iPad Air and the Sony Xperia Tablet Z. If you're thinking of purchasing either of these devices then you might find this iPad Air vs. Sony Xperia Tablet Z comparison useful.
The iPad Air runs iOS while the Sony Xperia Tablet Z is an Android tablet, so a major difference is the operating systems of each. The iPad Air has been praised for being exceptionally light and slim while the Xperia Tablet Z is actually thinner and weighs just a bit more.
The 10-minute YouTube video that you can see below this story will give you a really good idea of how these two tablets stand up against each other. It kicks off with showing the designs of both tablets alongside each other, before screen sizes and resolutions of the displays are detailed.
Operating systems and interfaces are then discussed before iPad Air specs on processors and storage are given followed by the same for the Xperia Tablet Z. The video continues by looking at the camera set-ups and features for both with sample images and video footage shown.
This iPad Air vs. Sony Xperia Tablet Z comparison winds up with details of the batteries and battery life and concludes with a judgement on the overall winner of this face off. We won't spoil the suspense by giving that away as you can see the verdict in the video below, but both tablets have plenty to offer.
You may also be interested in recent comparisons of the iPad Air with the new Samsung Galaxy Note 10.1 or with the Galaxy Tab 3 10.1. We feel the video comparison of the iPad Air and Xperia Tablet Z below is an excellent overview of both tablets and once you've viewed the video we'd really appreciate it if you could share your thoughts with us by sending a comment.
Regardless of the video conclusion, which of these tablets would be your choice? Will you be purchasing the iPad Air or Sony Xperia Tablet Z, or perhaps another tablet altogether?