Nexus 10 price offer brings free gift card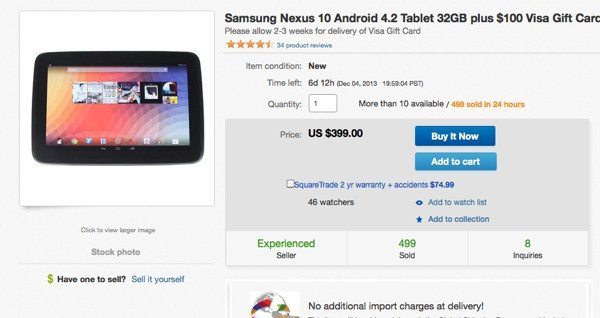 If you're after an excellent deal on the Google Nexus 10 tablet made by Samsung then we have some good news for you today. A Nexus 10 price offer also brings a free gift card worth $100 at the moment on eBay, but you'd better hurry while stocks last.
The Nexus 10 eBay price for the 32GB option is currently $399.99, which is $100 less than the usual retail price anyway. On top of this buyers will receive a free $100 prepaid Visa Gift Card as well.
While you obviously can't use that towards the purchase of the Nexus 10, it effectively reduces the total cost of the tablet to $299.99 and that has to be a bargain. At that price this tablet that runs pure Google Android will have an even higher appeal than usual, although we should emphasize that rumors are circulating for a Nexus 10 2 release shortly.
Another benefit of buying this Nexus tablet is that is will be one of the first devices to receive Android updates. If you don't mind buying the current model though then you'll find it hard to better this deal, especially as eBay will ship it free to many countries, including the US, UK, Australia, China, Canada, Japan, Hong Kong, Mexico and more.
The Visa Gift Card will be accepted in many locations, although the eBay Nexus 10 description does say you may have to wait 2 to 3 weeks for the gift card to be delivered to you. This Nexus 10 deal has a limited time offer though, so if you want to grab your Nexus 10 with the freebie you'll need to be quick.
If you want to find out more about the Nexus 10 tablet from eBay or order one, check out eBay here. Are you heading to eBay right now to claim your Google Nexus 10?