Smartphone photography improved with foldable studio idea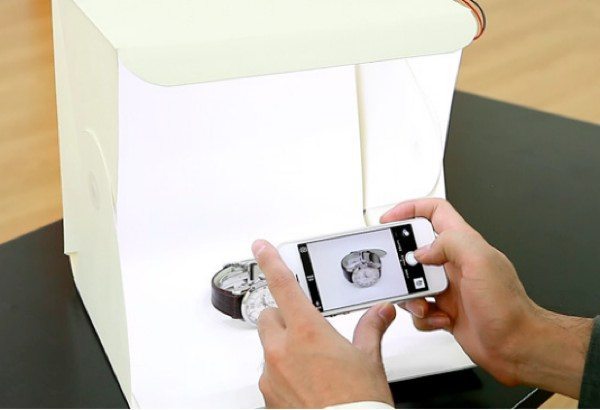 From time to time we like to bring readers news of Kickstarter projects and today's idea is for a smartphone foldable studio. This is an ambitious project and could bring real improvements to smartphone photography. Meet the Foldio — the 1st foldable studio for smartphone.
The idea behind Kickstarter to raise enough money from backers to get a project into production and already the Foldio has far exceeded its goal. The target for fundraising was $10,000 and more than $57,000 has been raised so far from more than 1,300 backers, with 35 days still to go until the deadline.
It looks as though plenty of people feel that Foldio is a great idea then, and this product comes from Orange Monkie. The idea revolves around the fact that it can be tricky taking high quality images with a smartphone due to the background or lighting conditions. In a studio these factors can be controlled so the Foldio brings a simple and easy to use folding studio for your smartphone.
The Foldio comes in white or black color options and is easily assembled with the use of magnets. It has internally embedded LED lights and users simply place the object they want to photograph against the background sheet. It's made of laminated paper and is designed to be water resistant.
The background sheet made of ethylene vinyl acetate is easily portable because it can be folded and it can also be replaced with another sheet. Different colors of washable background sheets can be used.
This seems such a good idea that it's a wonder nobody has come up with it before, simple but ingenious. You can see more about the Foldio at in the video below this story or at Kickstarter here, and we'd like to know what you think of it.
Do you like the idea of the Foldio to improve smartphone photography? Will you be backing the Foldio Kickstarter campaign yourself? Send us your comments on this.