iPad Air vs iPad mini 2 speeds compared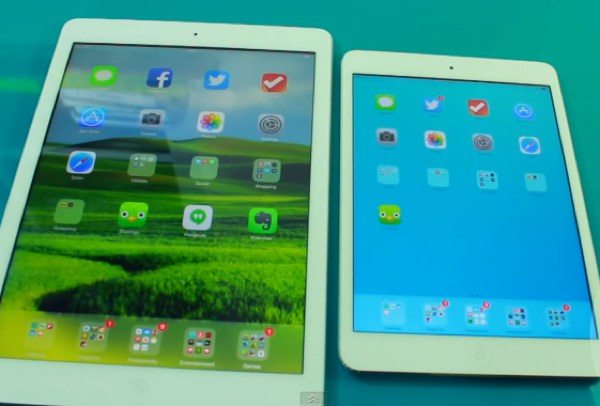 The Apple iPad Air and iPad mini 2 are both now available and selling like hotcakes. Many people could be considering buying one of these tablets but might not be sure about which to opt for. Today we want to show you an iPad Air vs. iPad mini 2 speed test video.
The iPad mini 2 is also known as the Retina iPad mini or iPad mini with Retina display, and we've previously given readers an upgrade comparison for these two tablets as well as a video comparison that shows much of what they have to offer. If you're still undecided, or even if you've already purchased one of these tablets, the results of this speed test may interest you.
Apart from the obvious difference in size the iPad Air and iPad mini 2 have very similar specs, so will there be a noticeable difference in speeds? The 6-minute YouTube video that we have embedded for your convenience below this story shows a speed test that attempts to answer that question.
The video shows the two tablets side-by-side and for fairness they are not running anything other than existing settings and so that one doesn't have any advantage than the other, histories have been cleared along with cookies and data. Both are also hooked up to the same wireless network.
The first section of the test shows the devices being powered off and then powered on again. When booting off they are much the same but the iPad mini 2 just beats the iPad Air when coming back on.
The next part shows apps loading up starting with FIFA 14 in which the iPad mini 2 is slightly faster, although interestingly with Real Racing 3 the iPad Air has the edge. The video goes on to look at Safari and both devices loading the Apple website, with the iPad Air loading the pages quicker than the iPad mini 2 on this occasion.
The results are mixed then, but to be frank there's hardly anything in it on most occasions and both offer impressive speeds. In conclusion the video reviewer feels that because of this you shouldn't make a decision between the iPad Air or iPad mini 2 based on performance alone.
Are you considering purchasing the iPad Air or iPad mini 2? If the difference in performance is not significant enough to take into account, what other factors are most important to you in making your decision? We'd be interested to hear from you so why not drop us a comments.