Samsung Galaxy Note 3 vs Nokia Lumia 1520 review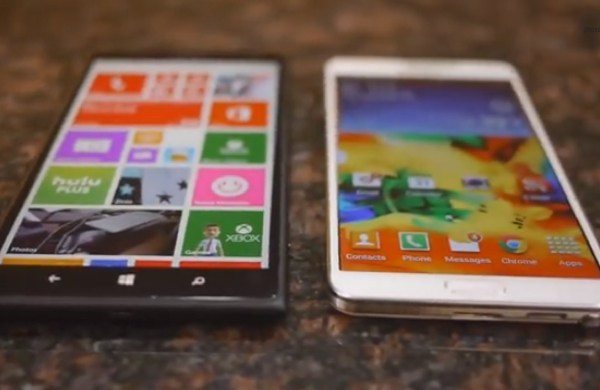 The Samsung Galaxy Note 3 and the Nokia Lumia 1520 are two of the most notable phablet-sized devices available. Plenty of people will be intending to purchase a new smartphone during the holiday season and might be considering one of these. Therefore we bring you a Samsung Galaxy Note 3 vs. Nokia Lumia 1520 video comparison that will give a good idea of these two devices.
A major difference between these tablets is the operating systems, as the Galaxy Note 3 runs Android while the Lumia 1520 is a Windows Phone handset. We've given readers plenty of information about the Galaxy Note 3 and the Lumia 1520, but when trying to make a decision between two devices a video showing how they compare can be really helpful.
The 15-minute YouTube video below this story shows an overview of both phones and what they have to offer. It begins with a look at the designs in which the unibody Lumia 1520 is judged to have the edge. However, the Galaxy Note 3 is said to be more comfortable to hold than the Lumia 1520.
The video continues by looking at the display specs and the fact that they both use different display technologies. We then see a hardware tour with the microUSB 3.0 port being noted as an advantage for the Galaxy Note 3.
One of the major factors for many people when buying a new smartphone are the camera capabilities, and this comes up for attention next before a good look at the platform experiences of both handsets.
More specs are then detailed including the processor and RAM, and then the web browsing experience is discussed along with features, the S Pen, voice assistants, and music player. We then see more on the camera such as sample photos and sample video footage, and call quality and battery life also come in for a mention.
Pricing is then detailed and the Nokia Lumia 1520 has a clear advantage here, although we should point there are deals to be had for the Galaxy Note 3 right now. We won't give away the end of the video but any choice between these two phones will ultimately come down to your own requirements, price tags and personal taste of design.
When you've taken a look at the Samsung Galaxy Note 3 vs. Nokia Lumia 1520 video below, we'd really like to hear your comments. Has this comparison helped you to make a choice? Will you be purchasing the Galaxy Note 3, Lumia 1520, or another smartphone altogether?