Nexus 6 imagining looks ahead to Android 5.0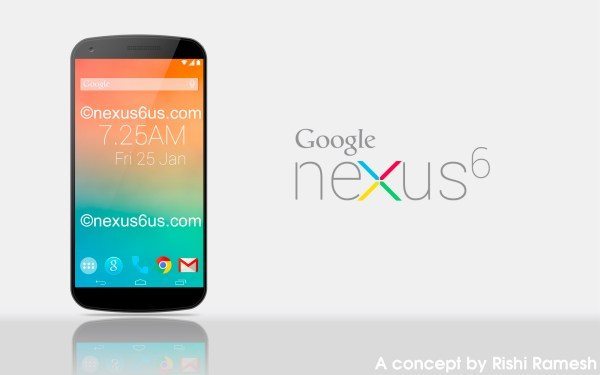 The Google Nexus 6 smartphone is a device that's already anticipated despite the fact that the release of the Nexus 5 was only weeks ago. Today we have a Nexus 6 imagining to show readers, although we'll point out from the off that this is a concept design.
Concept renders are a good way of getting a glimpse of what future devices might be like and this Nexus 6 concept was devised based on rumors about the Nexus 6 so far. It was designed by Rishi Ramesh for Nexus6us and Concept Phones provided some of the details.
Specs include a 2.5GHz Snapdragon 805 processor, a 5.2-inch display with resolution of 2560 x 1440, and 3GB of RAM. There's also a 13-megapixel rear camera with optical image stabilization along with a front-facing camera and it runs Android 5.0.
Photo Sphere would get a complete overhaul and design-wise you're looking at an aluminum build with Gorilla Glass. Pricing would likely be around $300 to $350. This isn't the first concept for the Nexus 6 we've seen and undoubtedly it won't be the last.
If you want to check out a couple of previous concepts we've shown then head here or here. It will be interesting to see how many styles and rumored Nexus 6 spec sheets we see between now and its likely release next fall.
We'd like to know what readers think about this latest concept idea so do send us your comments. Also we'd like to know what you'd like to see for the real Nexus 6 next year?