More Samsung Galaxy Note 3 colors confirmed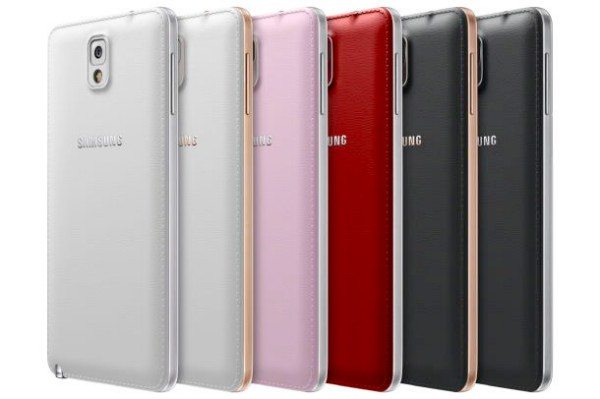 Regular Phones Review readers may recall that a few days ago there were unconfirmed reports that some new color options were on the way for the Galaxy Note 3. We can now tell you that new Samsung Galaxy Note 3 colors have been confirmed and we have further details ahead.
A few days ago a leak suggested that there would be Samsung Galaxy Note 3 red and white gold versions coming. That was almost accurate but we now know that there will be a Merlot Red Galaxy Note 3.
There will also be Rose Gold accents for the black or white models of the Note 3, dubbed Rose Gold White or Rose Gold Black. These new color varieties join the previously available Jet Black, Classic White or Blush Pink models, although availability of the Blush Pink version is fairly limited so far.
Specs of these color additions remain the same and the Rose Gold White version will be the first to arrive, heading for a release in China later this month. Samsung hasn't given any other information on when the other color options will release or in which regions yet, merely saying that this will tie in with market preference.
Consumers, especially for major devices such as the Samsung Galaxy Note 3, always welcome more color choices. It's rather a shame though that availability of these new colors hasn't been detailed further.
Many people will be adding the Galaxy Note 3 to their Christmas wish lists, but might now be unsure of whether it's worth waiting for the new options or not. It certainly doesn't look as though the new color options will be widely available in the very near future, although Samsung could always surprise us!
Would you like one of these additional Samsung Galaxy Note 3 color choices? Send your comments to let us know.
Source: Samsung