LG G2 vs Nokia Lumia 1520 video comparison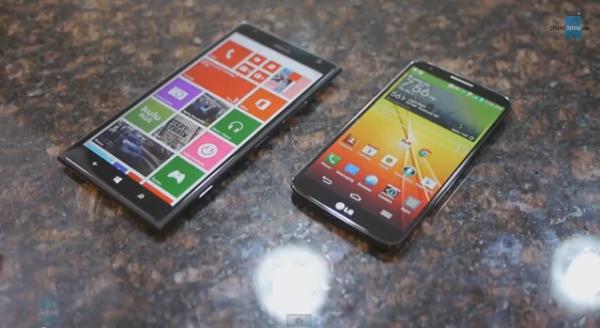 There is an ever growing choice of high end smartphones becoming available across multiple platforms and if you have no brand loyalty this choice can become even harder. Today we have the LG G2 vs. Nokia Lumia 1520 in a video comparison.
The video we have embedded for your viewing pleasure below this article is having an in depth look at the two smartphones and is just over 13 minutes long. It kicks off by talking about the LG G2 that offers some serious competition to its rivals with its high end specs and all round performance.
This compares to the Nokia Lumia 1520 the latest flagship from the company that also comes with a competitive price, and we move onto a look at the design of the two handsets. Obviously the Nokia is much bigger than the LG G2 and can be seen clearly when the handsets are next to each other.
The Nokia feels sturdier while the LG is prone to fingerprint smudges on the rear of the device due to its glossy finish, but the LG G2 feels more comfortable in the hand due to its curved design. We then get to have a look at the displays with the specs of each one listed and there is not much difference between the performance of the two panels.
There is a look at the various ports and buttons on the two smartphones before moving onto the camera specs of both handsets. A rundown of both operating systems is given with the pros and cons of each device.
The cameras on each device are looked at in more detail with the various features that are provided as well as the performance with some sample images and video footage. Check out the full video and tell us which device you prefer the look of.